Wyoming's International Pedigree Stage Stop Sled Dog Race draws top mushers and teams from across the globe to test their mettle and forge remarkable friendships. 
In the heart of the Wyoming winter, among the icy mountains and snow-quiet forests blanketed in pristine powder, lies one of the world's most thrilling and technical races. Widely recognized as one of the top three sled dog races on the planet, the International Pedigree Stage Stop Sled Dog Race offers mushers and their teams a truly unique challenge. Beginning in Jackson Hole, the Pedigree Stage Stop Sled Dog Race draws elite teams from far and wide including the Scdoris team from Oregon. 
Over the years, the Jenkins family has hosted celebrated musher Jerry Scdoris during his participation in the elite race, and have cherished the opportunity to become wonderful friends. "Jackson Hole is an amazing crossroads where the attributes of the physical setting intersect with the human element to enable an event like this to happen," observes Latham Jenkins. "It's so enriching to be a host family that wants to help a fundraising event through the years, and to get to enjoy developing a treasured friendship."
Jerry Scdoris looks forward to Jackson Hole and the International Pedigree Stage Stop Sled Dog Race every year. "The Pedigree race is considered to be one of the top three sled dog races in the world," he explains, a category occupied by races including Alaska's renowned Iditarod and the Yukon Quest. "Each of its seven stages has challenged and claimed more than one professional sled dog racer. With its unrelenting radical vertical gains and losses of elevation, crazy downhill switchbacks, and extreme fluctuations in temperatures, Wyoming trails are not for the faint of heart." 
And Jerry Scdoris is certainly not faint of heart. Nor is his daughter, Rachael. 
Rachael Scdoris first raced the International Pedigree Stage Stop Sled Dog Race at the age of fifteen: the race was then twelve stages long and over 500 miles. Not only did she set records as the youngest woman to navigate the challenging course: she did so without the benefit of sight. Rachael — who has raced in the International Pedigree Stage Stop Sled Dog Race once, in the iconic Iditarod four times, the Atta Boy 300 four times, the Canadian Championship three times — is a fiercely legitimate professional musher who is legally blind. 
Born with a rare congenital condition that has severely limited her vision, Rachael Scdoris did not let her lack of sight slow her down. Since the age of four, she rode dogsleds: perched on the runners in front of Jerry's legs, she learned to feel the movement of the sled, the momentum of the dogs, and how to balance through the most turbulent topography of the trail. As a single father, Jerry included Rachael in all elements of raising, caring for, and racing sled dogs. Through adolescence, she flourished as a gifted athlete and excelled as a runner, but ultimately returned to the passion she shared with her father: dogsledding.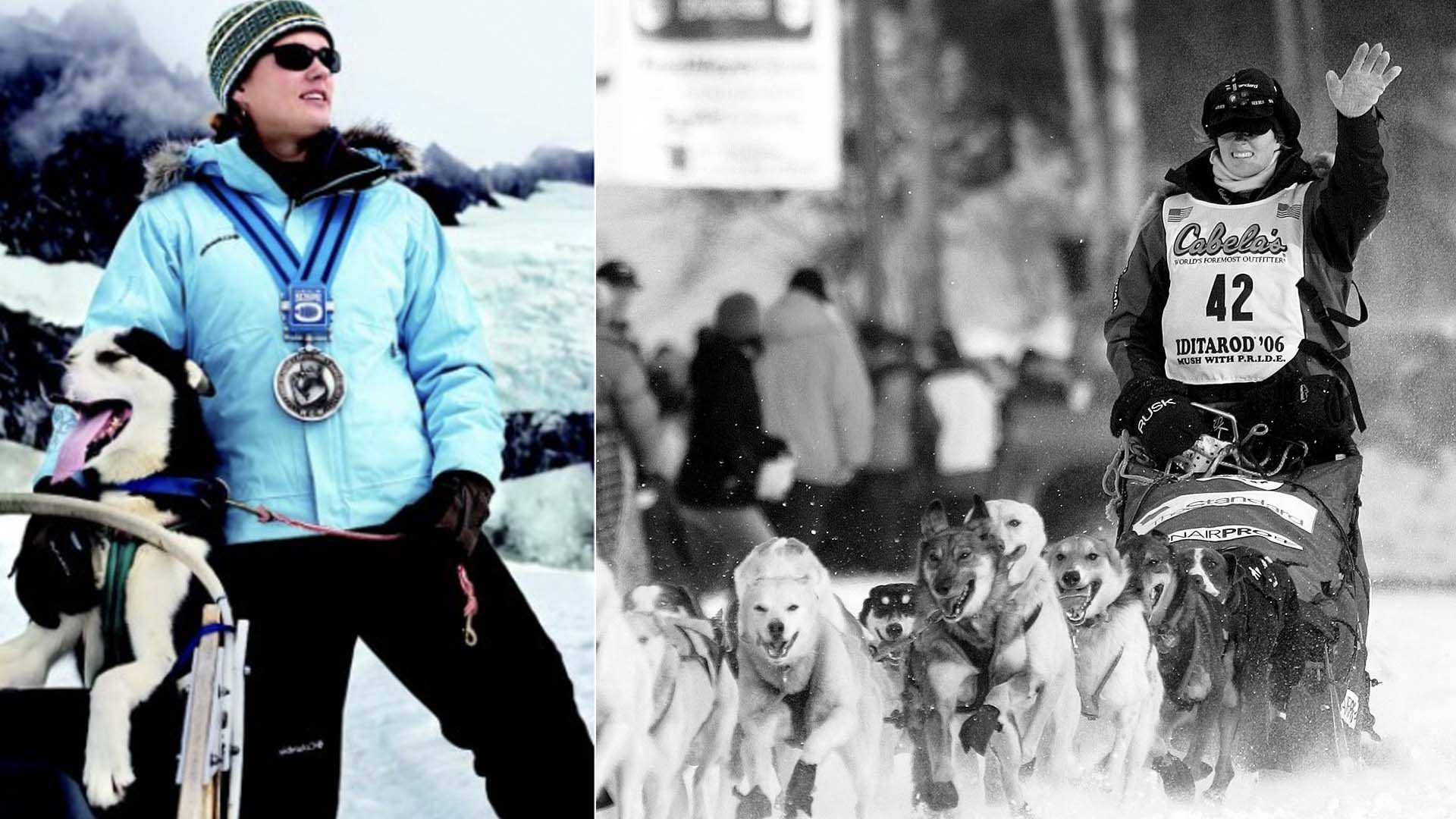 "A lot of her Iditarod effort started here in Jackson," recalls Jerry. Rachael wanted to race in the Iditarod, but the race managers were unwilling to accept her as a competitor due to her lack of sight. "Frank Teasley, one of the International Pedigree Stage Stop Sled Dog Race founders, heard that Rachael was denied access to the Iditarod. So he called me up and said – 'Bring her here! She can run our race!'
"I told him, 'Frank – that's a serious race. She's just a kid!' And he said 'Yep. And that'll shut 'em up!'" Jerry laughs, recalling the brash and yet deeply supportive invitation to Jackson Hole. 
Rachael competed in the International Pedigree Stage Stop Sled Dog Race in 2000. Not only did she complete the race, but beat multiple other mushers. And with that, she was one huge step closer to qualifying for her first Iditarod. Her determination and grit earned a bevy of well-deserved accolades over the ensuing years: she received an ESPN ESPY Award nomination, Glamour Magazine named her "2006 Woman of the Year,"  Nike celebrated her as the "2005 Worlds Most Outstanding Athlete with a Disability," Columbia Sportswear heralded her as the "2008 Columbia Pioneer of Sport." 
Each year, Latham and his family look forward to hosting Jerry and his boisterous team of dogs as they traverse the International Pedigree Stage Stop Sled Dog Race trail through the Wyoming wilderness. "Jerry is like an old soul, through his big smile, telling colorful stories, and sharing heartfelt concerns for others. Listening to his experiences of raising his daughter and her accomplishments encouraged me to read her book with my daughter, No End In Sight. It really inspired her as a young woman to appreciate the accomplishments of others even against the odds," reflects Latham. 
"Rachael is one of my heroes," says Jerry. "I didn't set out to make her anything in particular. It wasn't like my goal was to make sure she was a dogsled racer." But the hours they spent together — with the dogs, riding the runners, flying over miles of snowy trails — offered her endless opportunities to evolve and progress into her own excellence.
"Every sled dog racer in Wyoming has a similar story. Dogs altered, changed, or saved their lives in some way," says Jerry. His own journey to racing is no exception. After three years of military service during the Vietnam War, Jerry returned and found himself craving a rewarding athletic pursuit. Weaving his passion for sport with his lifelong love of dogs, he began collecting his first team of sled dogs in 1977. They were a motley, ragtag crew: he rescued dogs from the local pound, adopted dogs that others found too difficult or stubborn. 
"They were terrible!" Jerry laughs, recalling his early canine team. "But for me, it was a lifesaver. It absolutely changed my life." And he hasn't looked back. Over the decades that he has been racing, the International Pedigree Stage Stop Sled Dog Race in Wyoming remains one of his ultimate favorites. 
"It's an elite race. It's different because it's so fast, and the trail is technical from beginning to end. If you don't know how to ride a sled, you're in trouble." Jerry explains that the course, broken up into seven single-day stages, offers a trail that is groomed but is extremely technically challenging. "Anyone who has run it, if they say they haven't crashed, they're lying."
But Jerry's favorite part of the International Pedigree Stage Stop Sled Dog Race isn't the challenging terrain or stunning vistas: it's the people. "It's a community-based race," he says. "We've become a family over the decades. It draws the best teams, the best mushers. And the thing that makes Wyoming so unique is that every night there's a banquet in each community. You get to meet so many amazing people."
This year, of course, the adventure looks a little different. Jerry isn't on the sled behind his team of dogs because of an injury but is cheering for his racer Rafael Nelson. The pandemic has prevented the traditional ceremonial start at the Town Square in Jackson Hole, as well as the nightly community banquets.
Despite these changes, the heart of the International Pedigree Stage Stop Sled Dog race endures. The passion for dogs, community, and adventure remains. The crowds aren't cheering trailside in person, but the mushers and their teams are racing with the same enthusiasm. And some of the rowdiest, most gleefully-enthused dogs in the race are Jerry's. 
"That craziness and animation is one of the most beautiful parts of the sport," he chuckles. "And of life, for that matter."
[Jerry Scdoris founded the sled dog company, Oregon Trail of Dreams offering sled dog rides at Mt. Bachelor Ski Resort in Bend, Oregon. Now owned and managed by his daughter, Rachel.]
Written in collaboration with Melissa Thomasma: a Jackson Hole native, freelance writer, and founder of Elevation Writing.