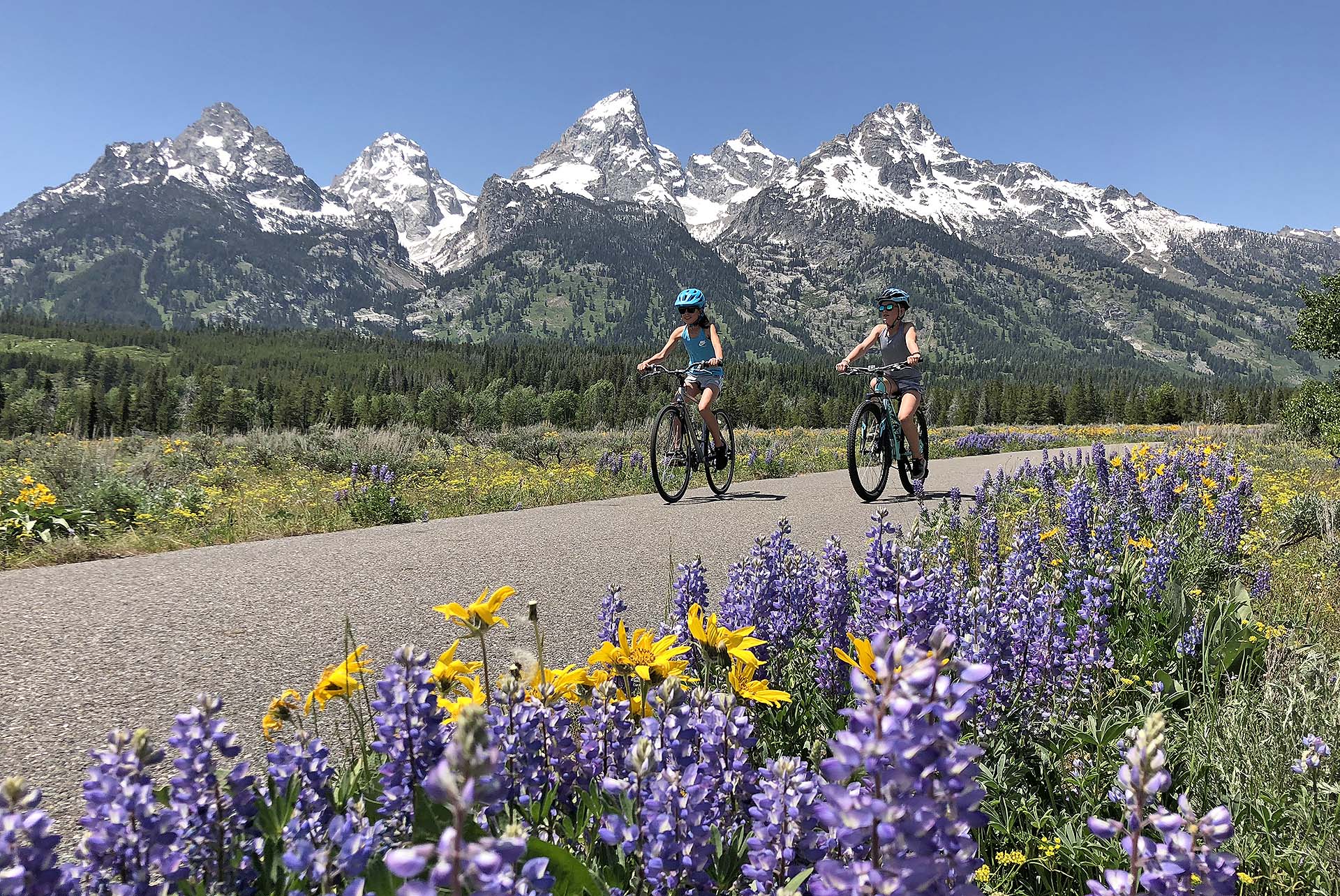 Though many towns across the country are striving to become more bike-friendly, precious few have a network that is as expansive and accessible as the Jackson Hole Community Pathway System. With nearly 70 miles of paved, meticulously-maintained pathways, the Jackson Hole Community Pathway System offers opportunities for families to recreate, individuals to commute in the fresh mountain air, and even for kids to develop their burgeoning independence in a safe, exciting way.
The Jackson Hole Community Pathway System offers recreational opportunities year-round. During summer months, it welcomes walkers and runners (and everyone in between), bikers (including e-bikes), horseback riders, and any other form of non-motorized transport. In the wintertime, long stretches are groomed and open to nordic skiing, snowshoeing, fat biking, and walking. True to Jackson Hole's active, nature-loving spirit, the pathway system offers constant access to recreation as well as the valley's inspiring wild beauty.
The Origins of the Jackson Hole Community Pathways
In 1996, the first four-mile segment of paved pathway was constructed, connecting the area around the Jackson Hole High School to the western part of town. Over the course of the next fifteen years, nearly fifty more miles were added. Now, the system spans the length of the valley from Hoback Junction in the south, to Jenny Lake in the north. 
Ongoing collaboration and diverse funding continue to support the development and maintenance of the pathways around the valley. Jackson Hole Community Pathways is a government department jointly run by Teton County and the Town of Jackson; the group is responsible for the planning, design and construction of pathways in the valley. Friends of Pathways, a local nonprofit organization, advocates for the expansion and safe use of the system around the valley. 
With a combination of privately-sourced donations and dollars from the SPET Tax – a 1% sales tax in the county, largely paid by visitors to the area – the innovative collaboration among the Town of Jackson, Teton County, Friends of Pathways, Bridger-Teton National Forest, and Grand Teton National Park has created an impressive and inviting system that encompasses the entire community.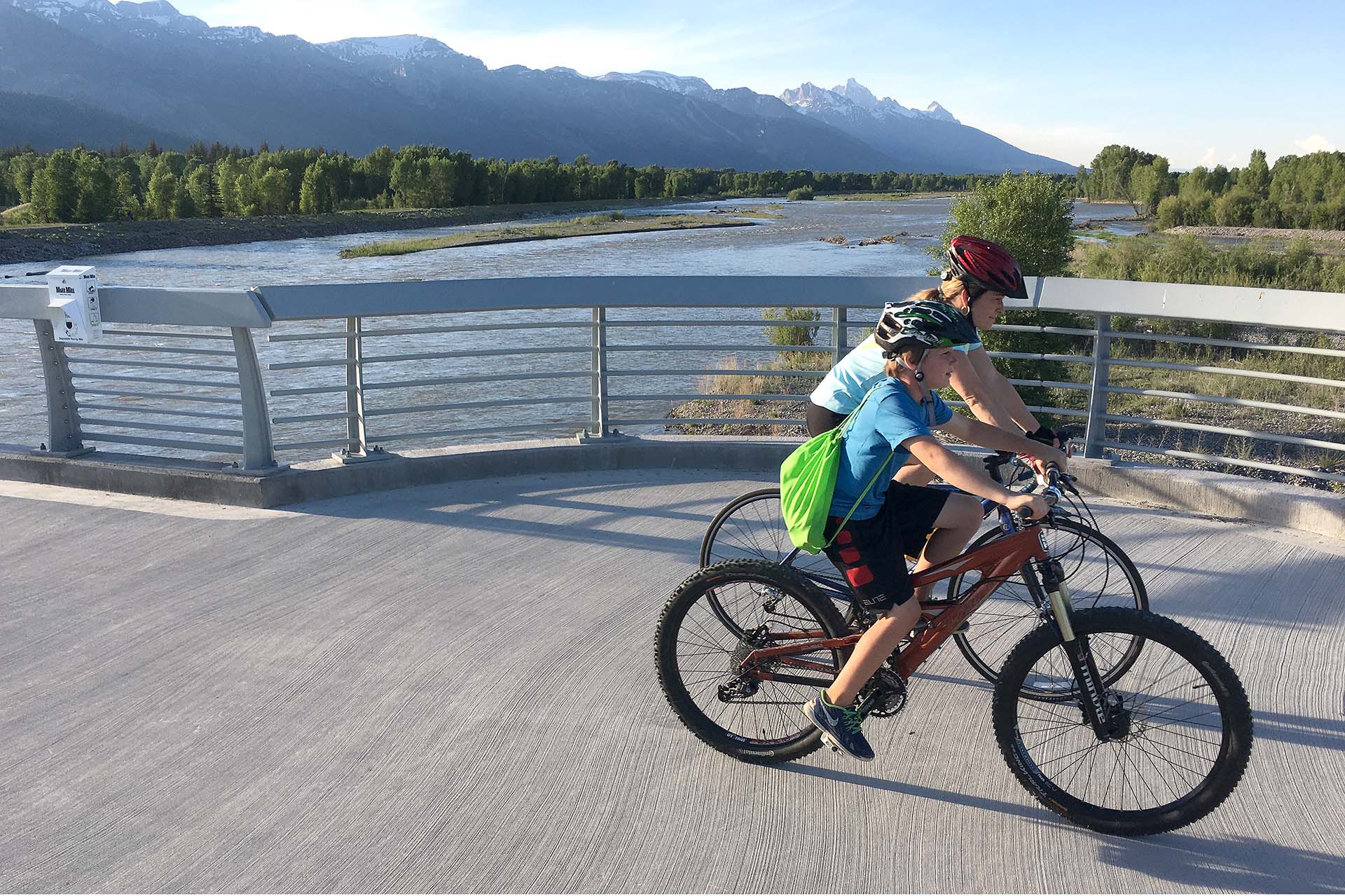 Alternative Transportation via the Jackson Hole Community Pathways
Brian Schilling has always been a bike enthusiast. He has fond childhood memories of zooming around his neighborhood with friends, and evolved into a savvy traffic-navigating commuter – and competitive racer – in his college years. When he moved to Jackson Hole, he realized that many others did not share his comfort of riding alongside vehicles on the road. Less experienced commuters, families, and kids needed a safer, more bike-friendly way to traverse the community.
Now, Brian is the Pathways and Trails Coordinator for Teton County, and creating a safe, user-friendly system is his vision. "Jackson's bike paths allow non-experts to use bikes in their daily lives, as well as for recreation," he says. "Not having to get into your car to get where you want to go – that's the definition of freedom. It opens up a whole world of possibilities." 
"It just adds so much to our quality of life here in the community," Brain continues. "We are one of the few communities in the nation that has as much connectivity and saturation." But Brian isn't done; his goal is to achieve ultimate connectivity among all of the parts of the valley, and ensure that everyone feels confident and safe utilizing the pathway system.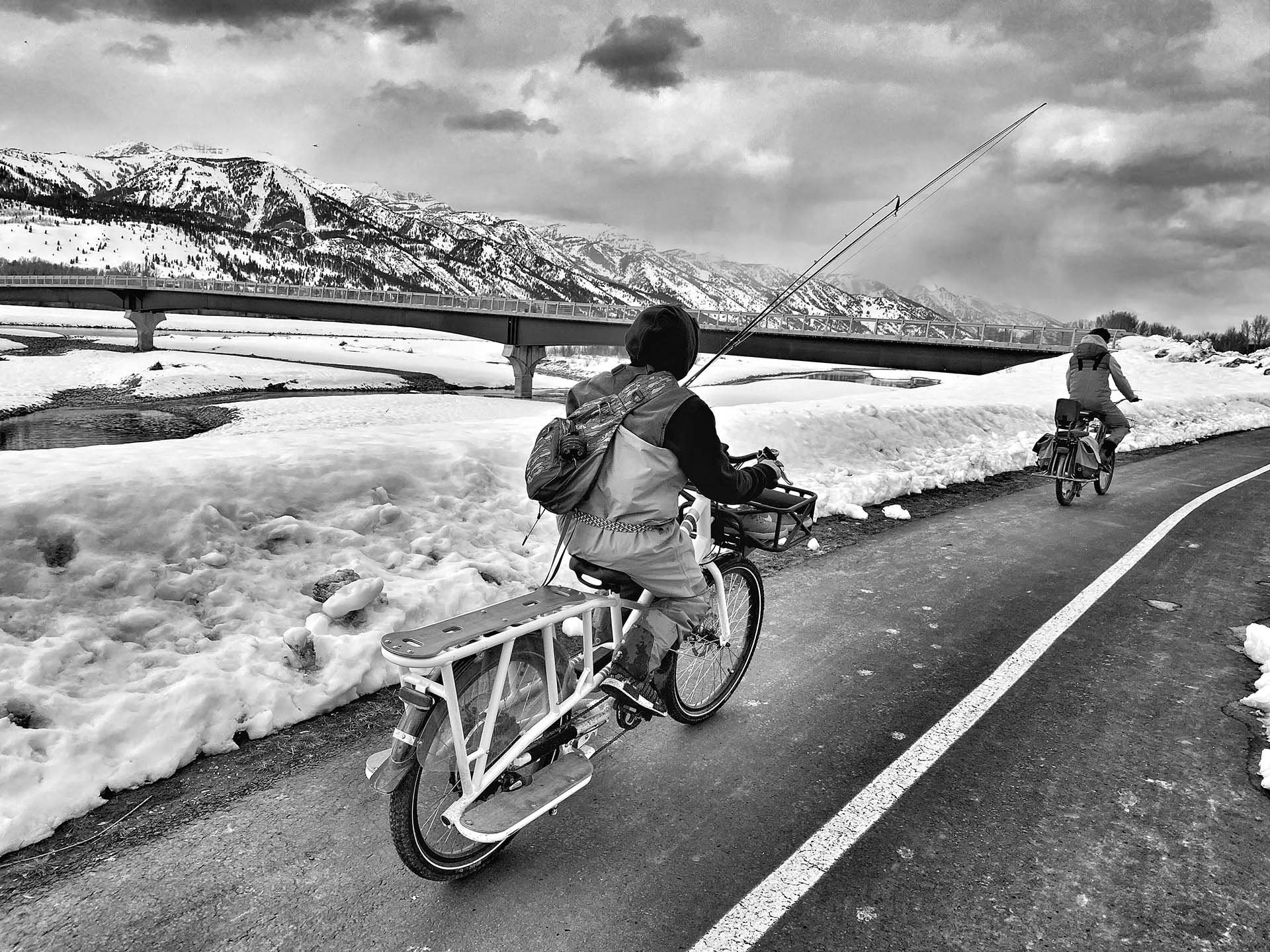 Jackson Hole Community Pathways Offer Freedom for Kids and Families
"One of the hidden values of the pathway system is how it fosters independence and a sense of freedom for kids. It allows them to incrementally expand and explore in a safe and empowering way," Brian muses. Perhaps their first solo venture is a rendezvous with friends at the neighborhood park, and as their comfort grows, they can journey to more far-flung destinations like Rendezvous Park or Teton Village. 
"It's safe and multi-use, so everyone from little kids on Strider bikes to senior citizens, to people with disabilities – the pathways are open to everyone, and a great way to get outside to connect with your surroundings," says Amy Golightly, Communications Director for Friends of Pathways. "You can enjoy the natural world without having to rough it too much." 
The addition of e-bikes to the list of approved pathway uses has further expanded the utility of the network, too. "The availability of e-bikes to be on pathways now allows a lot of users who thought their cycling days were behind them – it allows people to get out and explore the valley in a way that maybe they couldn't before," says Amy. "Not only is it a fun way to have an adventure and see things, it's also a really practical way for families and other people to get around town."
Pathways provide a relaxing, slower-paced alternative to family errands like the library, grocery store, or playground. They're also a fun, easy way to head out to dinner or to one of Jackson's outdoor concerts, farmer's markets, or art fairs.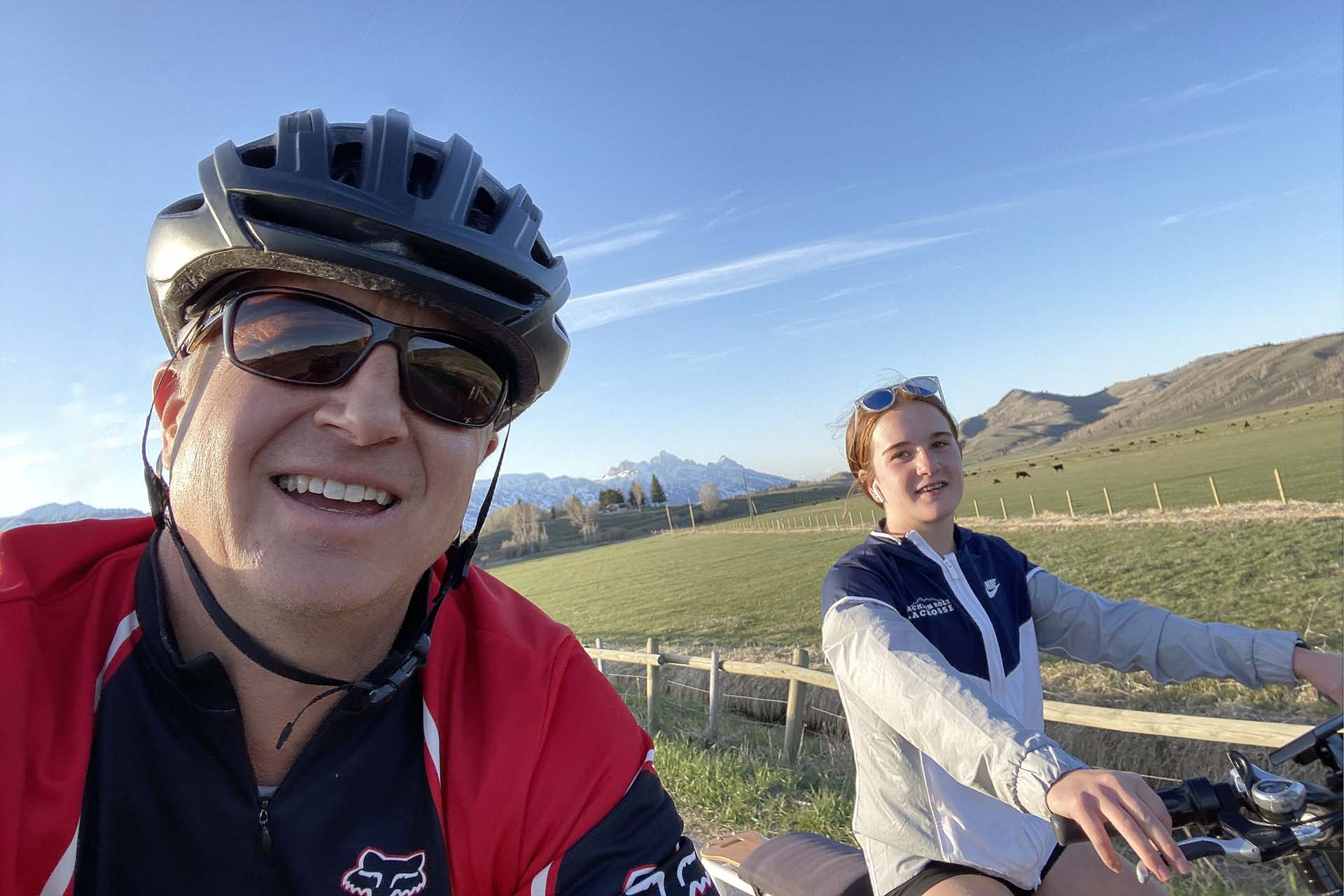 Jackson Hole Community Pathways Foster Connection
"This spring, we saw a 100-150% increase in use of certain segments of the pathways," observes Amy. "It's a great way for not only healthy recreation, but also sustainable transportation. People have the option to get out of their car, avoid traffic, hop on a bike, and access most destinations in town."
Both Brian and Amy agree that the Jackson Hole Community Pathway System is already a gem among such networks in the nation, but they're both excited about what the future holds. "The goal of Friends of Pathways is to ensure that every neighborhood in the town and county is connected to a pathway. so that every person has easy and safe access out their front door," says Amy. 
The Jackson Hole Community Pathway System is – ultimately – about connection. In the most literal sense, it provides connection among all of the best parts of our community. It's a safe and easy way to explore town, venture into the national park, or access the extensive network of backcountry trails around town. And on a human level, it invites connection to the natural world that surrounds us. The pathways make it simple to choose a form of transportation that's more relaxing, more fun, and gentler to the planet.
Perhaps most importantly, it creates opportunities to connect with others in the community. Enjoying a family ride to dinner, laughing during a walk with friends, cheering as a kid rides for the first time without training wheels – these things are all happening every day, just outside your door on the nearest pathway. 
##
Written in collaboration with Melissa Thomasma: a Jackson Hole native, freelance writer, and founder of Elevation Writing.