After more than three decades of skiing in Jackson Hole, I have found the items below to be must-haves in my ski jacket pocket.  These simple tools keep us prepared for the unique nature of our mountain due to its weather and terrain. Plus, I throw in my own personal experience as both a ski instructor and ski host when selecting these items.  As the safety message at Jackson Hole Mountain Resort reads, "Give this Special Mountain the Respect it Demands!"
Multi-Tool
I feel naked without this one in my pocket.  From cutting out the chunk of ski base I've just damaged on a rock to making binding adjustments mid-run, the multi-tool is invaluable.  For skiing, I like Leatherman's Skeletool.  It's lightweight enough, yet packed with all the features you need on the hill.
Face Mask
I have a thin face mask at all times in my pocket.  Weather pending, it's on my head, fitting nicely under my helmet and jacket collars.  I use Outdoor Research's Lumen Balaclava.
Whistle
Jackson Hole is known for its off-piste skiing, which takes you into areas that are not as heavily-skied as you seek fresh powder.  Should you become immobilized and lack cell service, a whistle is key to call for help.  (Word of advice: Put the Jackson Hole Ski Patrol number into your smartphone — (307) 739-2650.  Whether you need help or you're calling the line for others, don't ski without it!)
Bandana
Today we only wear non-cotton clothing while out carving the slopes, and when it comes to absorbing moisture, you'll wish you had one.  I use mine to clean out my goggles after tumbling in the snow or to wipe moisture from my face to prevent frostbite. A bandana can even come in handy for worse case scenarios like creating a sling for a shoulder or helping staunch bleeding.
Lip & Face Balm
Our dry climate and cold temperatures will have you constantly digging around for something to apply to your lips and face. I find balm not only useful for adding moisture, but also for preventing wind burn and sun damage. Should you find yourself stuck on a chairlift for an extended period of time, it's a lifesaver–apply to exposed skin to prevent frostbite.
Hydration
I am always amazed at how many of my friends ski without any form of hydration.  I never ski without my Camelbak. Specifically, I use a model that is designed to be worn beneath your jacket, the Bootlegger.  This is important to prevent the water from freezing and snagging on a tree branch as you slash through the trees.  Should you be hiking up the headwall and need to shed a layer or two, you can use yours as a sling for your extra layers as well.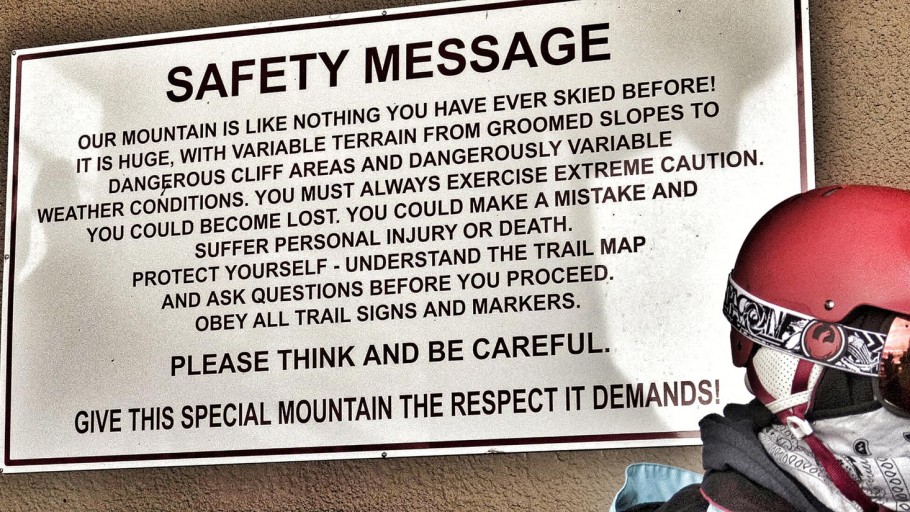 Hand Warmers
I hand these out like candy to visiting friends, as I've found that circulation is different for all of us. Over the years, I've noticed that new skiers to the area tend to really grip their poles and put a lot of toe pressure in their boots due to the intimidating nature of the mountain's terrain at first pass. My advice? Just relax and let the circulation return; in many cases those hands and toes will be much warmer.  Another piece of advice: Wear thin socks. Your boots have all the insulation you need, and thick socks actually increase discomfort in your boots while simultaneously decreasing circulation to your toes.
Ski Strap
This is a must-have for sure. Ski straps provide a great way to bundle your skis for transport, getting on the tram or dealing with the mountain of kids' extra gear you get to carry.  I have used one to hold my ski boot together when the upper buckle broke…and many other applications to be determined.
Trail Map
Locals might laugh to see me pull out a trail map after 20+ years of skiing at Jackson Hole Mountain Resort,  but when it comes to specifically locating yourself so the ski patrol or friends can find you, this simple piece of paper proves invaluable.
Snacks
You'll need some pick-me-ups while making turns.  This is very much a personal preference in this case, but I keep mine in my inner pockets so they are warm and don't break my teeth trying to eat them in sub-zero temperatures. Of course, I carry a little extra because once you pull out your Tram bar on the lift, others will appreciate you sharing your goods.
Sunglass Cloth
It's inevitable you'll need to clean your goggles or sunglasses during the day. Sunglass cloths are also helpful for cleaning the lenses on your camera or smartphone.
General Tips
I always ski with goggles over sunglasses for additional eye protection.
Keep your smartphone warm by storing it in your inner pocket, close to your body.
As noted above, thin socks are warmer than thick socks, as your boots have plenty of insulation. If you need more warmth, invest in boot heaters or heated socks.