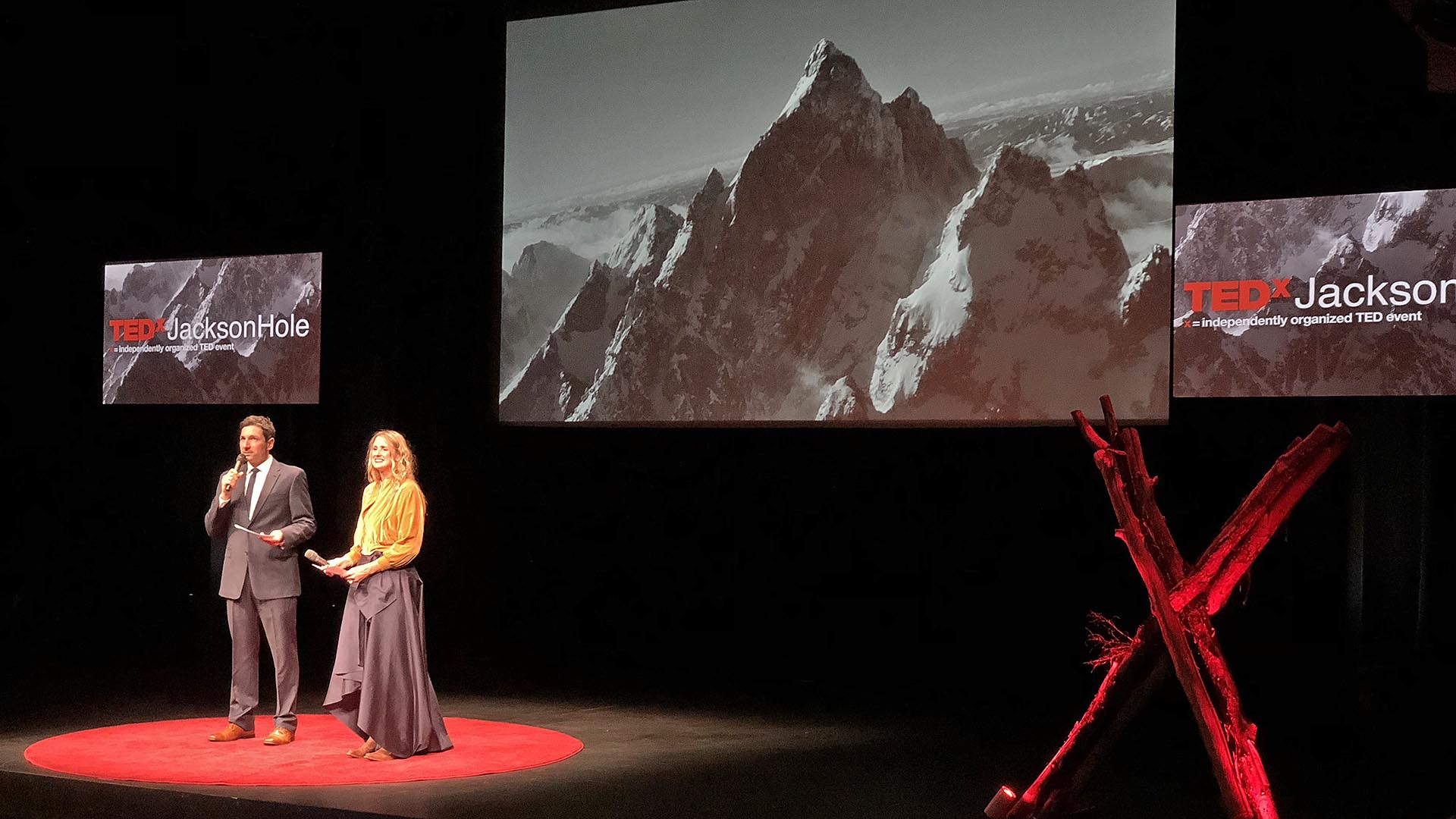 It is places like Jackson Hole in polarized times like these that inspire the x-traordinary, like TEDxJacksonHole. Just when we think we are filled with wonder from our last sunny hikes in Grand Teton National Park, the reflections of clouds in clear waters and the echoes of wildlife in the canyons, TEDxJH challenges our hearts and minds with a series of talks and performances designed to expand our worldview and remind us that the wildness of our utopian mountain town is part of a collective.
Inspired by JH Wild, a nonprofit film festival and an independently organized team of people who like to think big, TEDxJacksonHole is a cultural event that breaks through the bubble of small-town life each fall to give voice to the voiceless. It attracts cutting-edge filmmakers, inventors, artists and scientists that fit the TED profile of brilliant people with "ideas worth spreading." Since 2009, just three years after TED began sharing viral videos from their elite conference, TED adopted the x-factor, allowing communities around the world to independently organize their own TED-like experience. Jackson Hole responded with eight years of sold-out themes including Discovery, Extreme, Disrupt, Imagine, Resilience, Passion, Out of Darkness and Metamorphosis.
While many of the speakers and performers come from around the world,  there is no shortage of local talent to choose from when considering Technology, Entertainment, and Design (TED). This year New York Times bestselling Author Mary Neal encouraged the audience to wake up and live with a new purpose. She "knows" from her own death experience after drowning in a Kayak accident that there is something greater out there. Watch her talk.
Photographer Tom Mangelsen shared his iconic images of Yellowstone grizzlies and received a standing ovation after he told an intimate story of his relationship with 399, his most famous photographic subject whose protection on the endangered species list lies in the balance. He broke down into tears when he said "The gift of a bear like 399 will not come our way again." Watch his talk.
If there is one thread that runs through TEDxJacksonHole programming it is to elevate the conversation about the natural world and our role in preserving it.
That doesn't come as a surprise to people who know JH Wild Executive Director Lisa Samford, the brainchild behind TEDxJacksonHole and one of the most ambitious and connected people in the wildlife film industry.
Every other year, JH Wild puts on the Jackson Hole Wildlife Film Festival hosting what some consider the Oscars™ of Wildlife Film at Jackson Lake Lodge in Grand Teton National Park. How she puts these two events together is a wonder in itself. For her it is all about pushing the envelope and having fun.
"Why are we striving so hard to grow up?" says Hawaiian slam poet Kealoha who wove together the TEDxJacksonHole's 2018 theme of metamorphosis from life to death, loneliness to kinship, and the power of play in his poem "Recess" at the end of the program.
Like most visitors who give us locals a fresh lens on this magical place we call home, Kealoha was awed by the bull moose and calf he saw on a butte in Coyote Canyon and another big bull moose that he passed by the library on a drive to the Center for the Arts, where TEDx is held every October.
Seeing these majestic creatures amidst the willows in the golden glow of the aspen trees are wonders that all locals can count on each fall. In the twilight of his life, John Kerr, a retired fundraiser for National Public Radio in Boston came to Yellowstone National Park as a volunteer park ranger. The moving canvas of his life and now his work in the park includes triple rainbows, grizzly bear traffic jams and the sound of wolves howling. (He and Taylor Rees, a filmmaker who brought her huskie on stage to howl, were the two speakers who got the audience to howl back at this year's TEDxJacksonHole). Kerr says living in a one-bedroom cabin in Lamar Valley, sharing his passion for this wild place and protecting its creatures for four months a year in the past 14 years has been a dream job for him. His idea: to abolish the word retirement and convince more Americans who are living longer, searching for more meaning and finding connection at the end of life, to become rangers as well. Watch his talk.
To listen to TEDxJH talks go to www.tedxjacksonhole.org