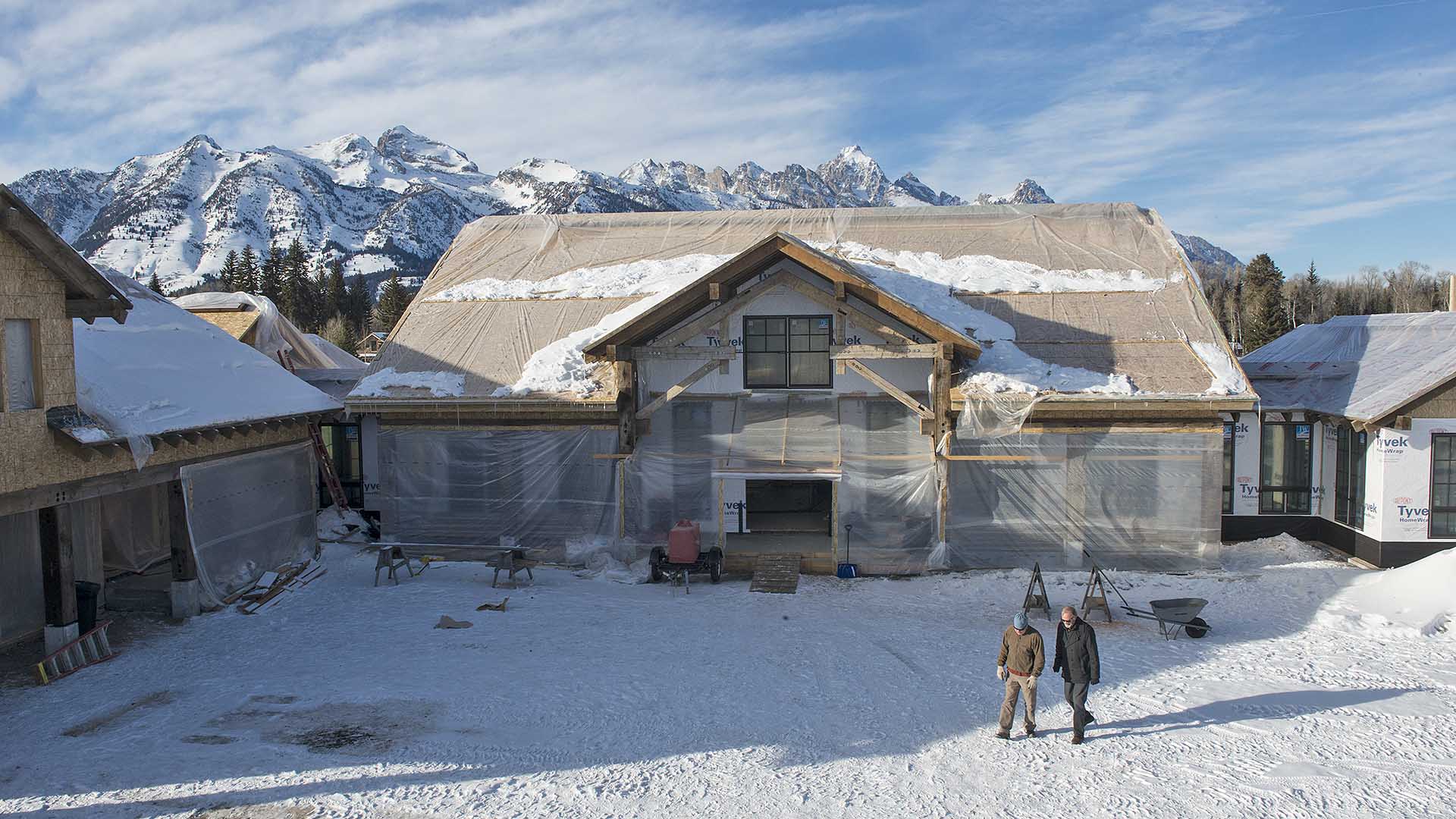 When it comes to building a home in Jackson Hole, certain facets of the process look slightly different than in other places around the country. One of the most spectacular and distinctive locations on the planet, this can be the ideal place to construct your dream home, and many wonder about the cost to build a house in Jackson, Wyoming. Understanding construction costs and timelines, unique structural requirements of homes, and important community dynamics can set you up for success when you're planning on building a custom home in Jackson Hole.
Buying Property in Jackson Hole
The custom home building process begins with the selection of property to purchase. Jackson Hole has a wide variety of terrain, and the location can have an impact on not only the kind of house that can be constructed, but also the cost of the project. It's important to consider a variety of factors that may affect the design of the structure itself: is the land on a steep slope? Will construction require a great deal of excavation or tree removal? Are there ponds or creeks that impact the project, or require ecological impact mitigation? 
Additionally, it's important to remember that certain parts of the valley experience significantly higher snow loads in the winter than others, and Teton County's building requirements vary accordingly. While homes in some regions within Jackson Hole must be built to sustain 75 lbs per square foot of snow load, others require 175 lbs per square foot; differences like this can directly affect building costs. For this reason, some buyers select and hire an architecture firm prior to finalizing their land purchase. This way, they can ensure that their vision for a home is feasible both logistically and financially.
Moreover, because the Tetons are a young mountain range, and on a geological fault line, all construction has to be built to the highest standards of seismic stability. Adhering to these high standards ensures the safety of not only your family, but also the community at large. Ensuring that these standards are met contribute to the overall cost to build a house in Jackson, Wyoming.
The Big Picture
Custom home builders and designers in Jackson Hole couldn't agree more on this key piece of advice: assemble your team as early in the process as possible. Early collaboration and open communication are the best ways to keep your project on schedule, on budget, and avoid unpleasant or frustrating surprises. 
One of the first – and most critical – pieces of the overall project that requires clarity is your budget. Of course, every facet of the home building process is variable; each project has unique elements, and each client has distinct priorities. Those variables notwithstanding, this is how the experts recommend thinking about your overall project budget for building a custom home in Jackson Hole:
Architect's Fees – 12%

Landscaping – 8%

Interior Design – 10%

Building – 70%
This breakdown doesn't include the Teton County Building and Permitting fees, nor does it include the potential need for drilling a well or building a septic system. Here's a sample of how this might look for a hypothetical home project:
For a 4-bedroom home on a flat piece of property located on the West Bank, 5000 square feet in total, of which 4250 square feet are habitable (the remaining 750 square feet are storage and garage space). The overall budget for the construction – not including purchase price of the land – is $4,000,000.

Teton County Permitting Fees (no credits, no add-ons) – $25,000
Drilling a well, building a septic system – $20,000

Architect's Fees – $474,600

Landscaping – $316,400

Interior Design – $395,500

Building – $2,768,500 ($791 per square foot)
From beginning to end, this process is likely to take roughly two years. The average cost of a home in Jackson Hole ranges from $750 to $1000 per square foot, depending on the quality of materials and finishes. 
With this example as a reference point, let's examine each of these elements, and why their price tag and timeline might be unique when planning your custom home in Jackson Hole.
Designing a Custom Home in Jackson Hole
The first step in the planning process is to hire an architecture firm to create your home's design. "Once we connect with a client, the first process we go through is 'solving the site' – we go to the property and understand everything about it," explains Chris Lee, an architect with Design Associates Architects. "We assess where the neighbors are, where the roads will come in, where the wind blows from, everything. All of the different factors that influence the property."
Next, Chris explains, it's up to the client to share their vision for their home's features. "Then we suggest that our clients develop what's called the 'program,' which is essentially their wish list. How many bedrooms and bathrooms? One story or two story?" Also helpful? Collecting images of ideas, styles, and features that you like and hope to incorporate into your custom Jackson Hole home.   
Based on this information, the architect begins the initial design process, including engaging civil engineers and a building company. This is the ideal time to get all of the players around the table to discuss your unique goals, priorities, and budget. "We work with a client to achieve what we call 'right-sizing,'" CLB Architects' John Carney explains. "The goal is to design enough space for someone's vision, but no more than you actually need." 
Additionally, John explains, the group can engage in "value engineering" to make sure that money is allotted in alignment with your priorities and goals; do you want to prioritize the best kitchen appliances? Or top of the line windows? Is custom stonework on the exterior more critical than a high-tech integrated A/V system? 
Andrew Miller of JH Builders agrees: "We always recommend bringing a builder on early – really the same time you start working with an architect. The reason is that during the design process, it's really important in order to maintain a budget that you're comfortable with, that you're pricing the designs as they come together." 
An architect will then begin the preliminary phase of design drawings – called schematic design – as well as engage the expertise of civil and landscape engineers to incorporate structural, mechanical, lighting, and plumbing elements. This phase typically takes around three months, and once it's complete, the architect will submit the plans for approval to Teton County. Gaining approval has never been particularly swift; historically, it has taken between 6 to 8 weeks. Local architects and builders note that over the past couple of years it has become an even longer waiting period – sometimes up to 12 weeks – largely due to the volume of projects in the area.
Permitting A Custom Home in Jackson, Wyoming
There are a multitude of factors that influence what a building permit in Jackson Hole, Wyoming, might ultimately cost. There's an affordable housing fee for new construction, and also a per-square foot fee that varies with the overall size of the project. The hypothetical home above, for instance, would pay $4 per square foot. There are ways to earn "credits" to diminish this cost – including eco-friendly elements like incorporating solar panels and advanced insulation. Additionally, elements that are considered "non-essential" (decorative gas-fueled fires, swimming pools, pumps within water features, etc.) can increase the price. This is something that an architect will help you navigate and work to ensure that the project is in alignment with Teton county's regulations.
Likewise, some locations – like those in established subdivisions – have water and connections to regional sewer systems. In that case, you don't need to factor in the cost for drilling a well or building a septic system. If you need both, though, depending on your location, that could cost in the neighborhood of $20,000 or more.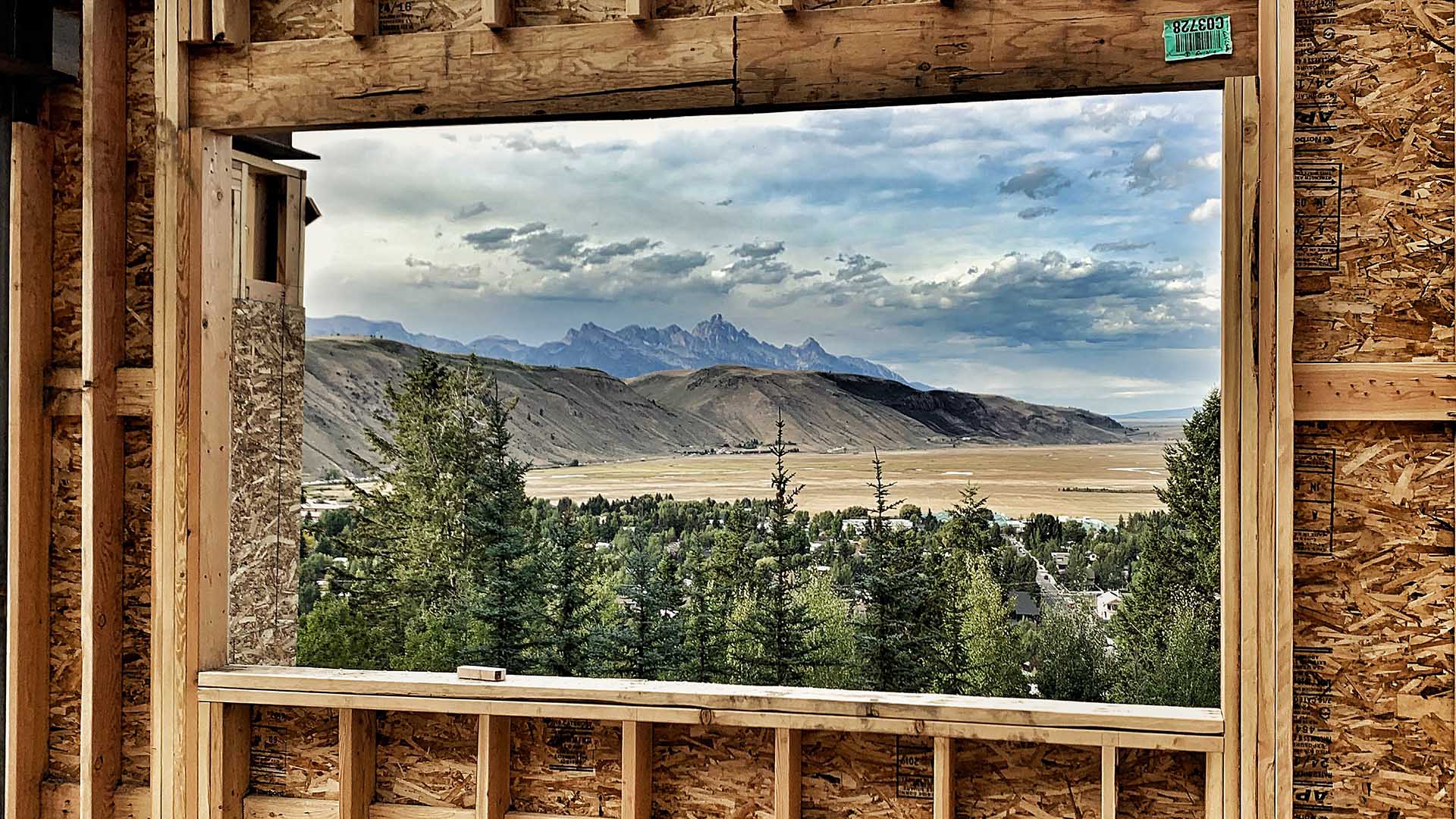 Breaking Ground, Building Up
Once permits are squared away, it's time to start the building process. But don't wave goodbye to your architect just yet! A truly top-shelf professional architect doesn't just pass the plans over to a builder, but remains involved and on-site throughout the process to avoid problems and mistakes.
The builder, guided by the architect's plans, will break ground and begin constructing your custom home in Jackson Hole. This part of the process is thrilling; it's exciting to see your home transitioning from idea to paper to reality! It is also the most time-consuming and expensive phase of the journey. There are a few factors that contribute to this.  
"We always explain that labor is the most expensive portion of your bill. It's the most volatile portion, too," says Andrew Miller of JH Builders. "The labor force is always tightening here. There's just not an abundance of available labor, and that drives the cost up. Carpenters are able to demand a premium, and we have to follow that if we're going to keep our labor force. There are just no 'deals' on carpenters in Jackson Hole." 
Additionally, Jackson Hole's remote location means that all materials need to be ordered and shipped in from elsewhere. Materials aren't always readily available locally, and waiting for their arrival can impact the timeline of a project, as well as increase the price. 
Finally, an important factor to keep in mind is the intensity of Wyoming winters. "Time of year when you break ground is a pretty critical factor here due to the weather conditions," observes Burt Mills of Teton Heritage Builders. Cold or snowy weather can impact the start date or the progress of a project. For example, while it's not impossible to break ground on a new project in February (when the ground is frozen solid), it would require the use of specialized heaters and advanced procedures to pour concrete. "There's going to be an overall $20-25,000 cost addition if you're starting a build in the late summer, like a September or October start," Burt says. 
Large amounts of snow can also hinder progress on a project, especially if it is in the early stages and not covered. Carpenters would need to spend time on snow removal prior to making construction progress, which can extend the overall timeline and cost. 
Andrew says that you should expect a 5,000 square-foot project to take around two years from ground-breaking to fully complete, but longer if your home is bigger. "On the short side, we see smaller homes built in around fourteen months," agrees Burt. "On the longer side, some larger more complex homes are going to take twenty-four months or more. But if we – as builders – are involved in the design process from the very beginning, it lets us really hit the ground running on the construction cycle." In other words, not only will your project go more smoothly and bring fewer surprises, but it will likely progress more quickly if you ensure that your builder is involved early in the process.
Finishing Touches
Like all of the other facets of a home-building project in Jackson Hole, interior design will be tailored to your style, priorities, and budget. And the earlier that a designer can be involved in the planning, the better. "I feel very strongly that the entire team should be brought together at the very inception: the architect, the designer, the landscape architect, and the contractor. You're going to have a more seamless, holistic process," explains Rush Jenkins of WRJ Design. 
"Understanding the place of the architecture within the environment, the views, capitalizing on that, and also considering and the experience of the house – the harmony of all the things that come together to make a home meaningful and wonderful. That requires consideration of the interior, the exterior, and the architecture."
Amy Brown of design firm Forsyth and Brown agrees wholeheartedly: "You should get an interior designer involved sooner rather than later because we bring a different side of the story to the table that can really help in your budgeting. Everybody has their different priorities, different parts of the home where they're willing to put their money." 
When interior design is integrated into the process from an early phase, it is easier for a client to decide where to prioritize the luxury items within their home. As with all of the other elements of a custom home in Jackson Hole, the price of an interior varies widely depending on the style and quality of finishes. "It's not just a square-foot number; it doesn't correlate directly to the size of the house," says Amy. "There are so many levels of quality – you can spend $4000 on a sofa, or $40,000. It's hard to put an overall number on any project until you spend some time with a designer and discuss your priorities."
Landscaping, as the last piece of the puzzle, can often run up against budget limitations if it's not a factor that you've planned for sufficiently. "We are always the last sub-contractor to come in," explains Sean Macauley of Mountainscapes. "We come in the last couple weeks as the builders and painters are finishing up and moving out. That's when we put in hardscapes (patios, walkways, firepits), softscapes (trees, shrubs, garden beds, grasses, and sod), and an irrigation system." Sean says that if a budget isn't well-planned from the beginning, or if the cost of landscaping isn't appropriately factored in, it can be challenging to give homeowners the final landscape that they're hoping to achieve. 
Like construction materials, all landscaping products have to be shipped into Jackson Hole, and that impacts the availability and pricing. The planting and growing season in this mountain valley are short, which means that the season during which landscaping can happen is somewhat limited as well. Sean emphasizes that both for timing and budget, it's important to plan ahead for the landscaping of your custom home in Jackson Hole.
The Takeaways
Experts on building custom homes in Jackson Hole undoubtedly agree on the key takeaway advice:
Get the whole team together early.

Clarity around plans, budget, and priorities minimizes the chance for surprises. As Rush Jenkins summarizes: "If a client can put together a highly professional team, they're going to get a wonderful product and a smooth process."

Jackson Hole is more expensive than other places.

The average to build a custom home in Jackson Hole is between $750-$1000. (Of course, it can easily go much higher.) This is due to a variety of factors including a constrained labor force, a weather-shortened construction season, and the need to have the vast majority of materials shipped in from elsewhere.

Have a realistic timeline.

Depending on the size of your home, plan for approximately two years from the time you purchase land – longer if you're looking to build a large or complex structure. 
Ultimately, Jackson Hole an amazing place, and is home to some truly exceptional architects, builders, and designers. Having a solid understanding of the process, a thorough plan, and informed expectations can make the process both exciting and rewarding. And at the end? You'll have a custom home in one of the most spectacular and special places on earth.
Written in collaboration with Melissa Thomasma: a Jackson Hole native, freelance writer, and founder of Elevation Writing.