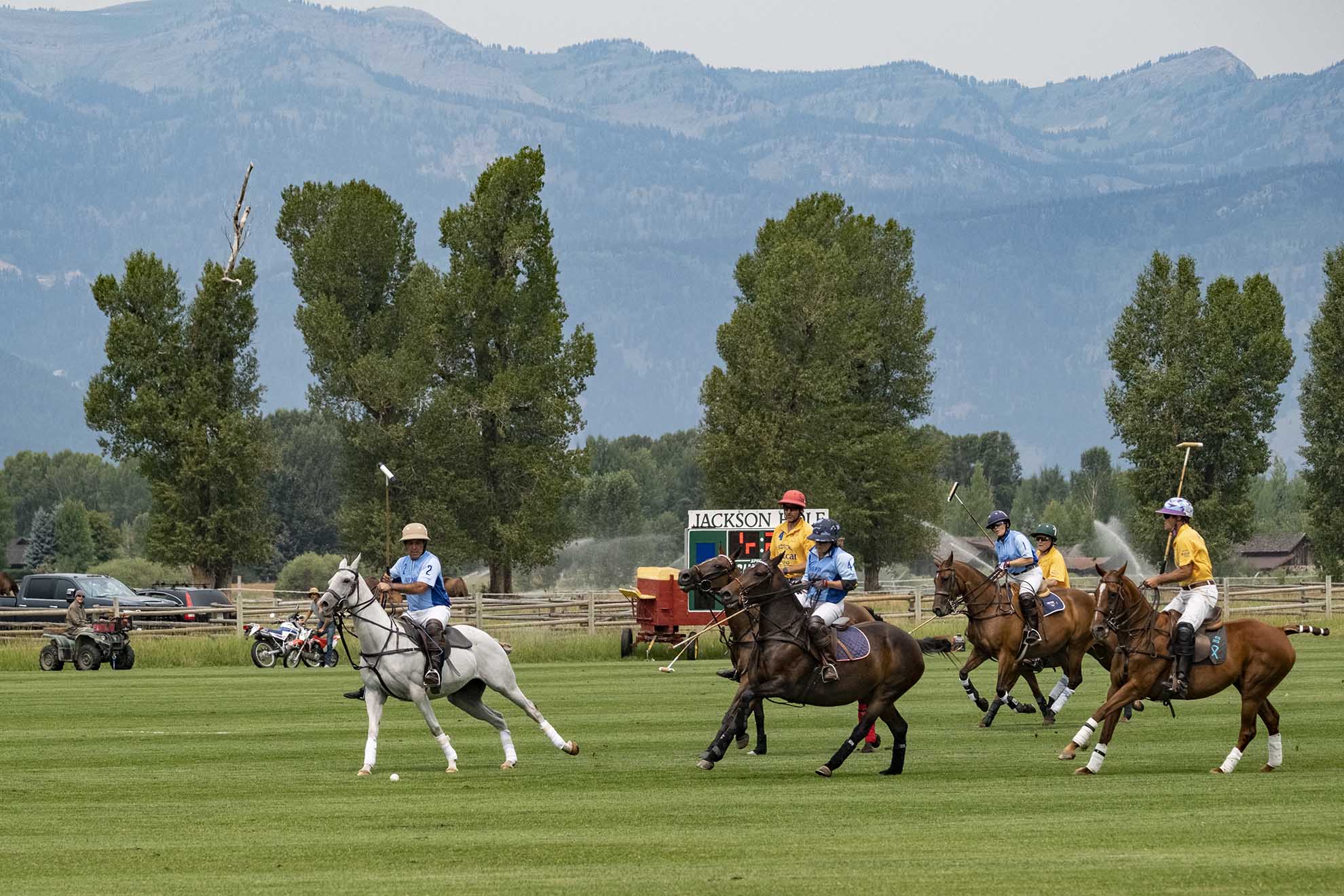 It isn't every day that I discuss polo with friends and family. As a matter of fact, I don't. But thanks to the Jackson Hole Polo Club, my curiosity has been piqued. The lure is easy to identify: beautiful surroundings at Melody Ranch, well bred horses ready for a scramble, and community members feeding passion for a sport that has a reputation for being exclusive.
One of the club's founders, Gary Rubin, wants to be sure that anyone with an interest is not put off, "When we started playing around here decades ago, it was really just a bunch of guys on horses with broomsticks and Western saddles. No rules. Cowboy polo." The idea to play among friends evolved into a club that has kept that cowboy feel.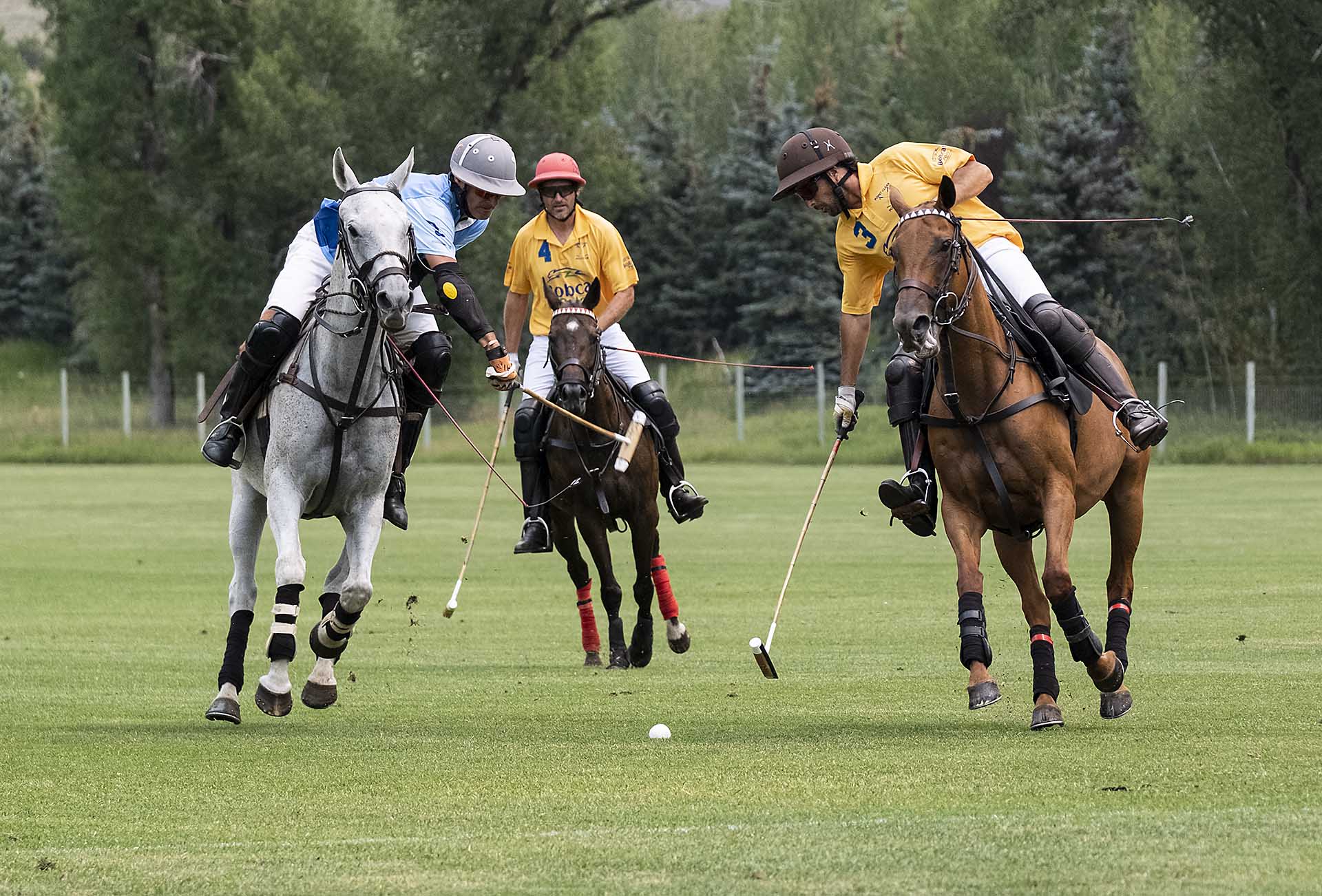 Polo clubs nationwide celebrate "the stomping of the divets" each year, inviting fans and patrons alike onto the field to trounce chunks of dirt back into the ground. This is ordinarily a  swanky affair, and part of the fun involves the fact that everyone is dressed to the nines while stomping.
The Jackson Hole Polo Club holds its annual divet stomping fundraiser on the first Sunday in August. Rubin likes to clarify the approach in these parts, "We're not fancy. It's casual fun. Everyone should be able to participate if they want to." This vibe is easily felt when attending any event that this club orchestrates. Celebrating on the polo grounds at Melody Ranch might include a pile of barbecued meat, children entertaining themselves in the open air, and many happy adults enjoying one another's company under an expansive Teton sky.
A communal feel pervades, and the welcome nature of this pony culture is not limited to the Jackson residents who are able to jump into the fray. The club also includes professional polo players who travel a circuit.
As Marcos Villanueva elaborates, it's all about the weather. "I live in Houston, but playing polo in Texas in July isn't good for the horses." Circuit players travel from region to region, chasing a tolerable weather environment that keeps the horses safe while in play. "We are here in Jackson for a couple of months every year." (surname) is a native of Argentina, raised by a polo playing father who also happened to be a large animal vet. "I was born into it. It's in my blood."What also might be running through his veins is a natural ability to barbecue meat to perfection, as evidenced by his turn at the fire pit.
The events that surround the weekly matches are vital to the connections that have been forged through the club. It's a chance for members to catch up, share a meal, and plan their next match. Jackson resident Hilary Moore is part of an all female polo team affectionately dubbed the "margarita league." "We just get out there and do our best," she says, "Once you start getting into it, it's hard to stop. Anyone can come out and watch, really. I'm not sure everyone knows that."  Moore is another of those club voices that would encourage anyone with interest to take in a game. "It's so much fun."
Polo is considered one of the most ancient of team sports, with origins dating back to 6th century BC. It has been called "the sport of kings", and the fanciful ceremony surrounding it has stuck. With all of the fanfare  involved, it's easy to understand how an outsider would be put off. But an inclusive mindset in the Jackson Hole community transcends the traditional artifice of this sport. Boots and denim serve to set a pace and tone that keeps Jackson approachable, even when it comes to a sport that is rooted in nobility.