"In the ranch world or otherwise, one can have no better friend than Gene Kilgore, an extraordinary gentleman and the world's foremost authority on guest ranches," writes Brooks Bradbury, former general manager of Home Ranch, which is no longer an operating guest ranch but, at the time Brooks was manager, was the only Relais & Châteaux-designated ranch in Colorado. "Thanks Gene, for connecting travelers, ranching, and ranchers and, most of all, for telling the guest ranch story to the world."
It was a summer spent with his family at Trail Creek Ranch when he was seven years-old that set Gene Kilgore on the path of his life's work. It was not a typical Kilgore family vacation (more often they went to Mexico, where Gene's father was a visiting professor of surgery at a university), but, "It was a magical summer for all of us," Gene says. More than 60 years later, he still remembers the vacation vividly: "I got my first lariat and wanted to try to ride calves at the rodeo, but my parents wouldn't let me. I fell in love with the whole experience and that was the moment that I started wanting to be a cowboy when I grew up," he says.
 "There is no setting like Lost Creek Ranch. Sit on its deck and it's blue sky and magic. The magic is the Tetons; the view of them from Lost Creek Ranch is spectacular."—Gene Kilgore
Gene did work as a cowboy and wrangler for a couple of years in his 20s, including a season at the famous and historic White Grass Ranch at the foot of the Tetons in Jackson Hole, but decided he wanted to be involved with guest ranches in a deeper way. In 1980 he founded Kilgore Worldwide Ranch Company and Ranch Vacations.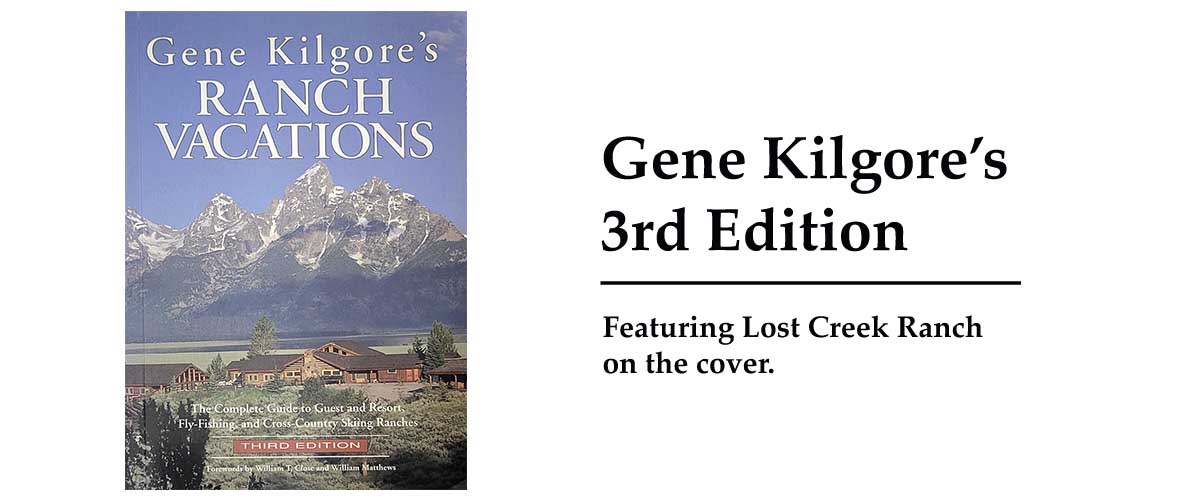 In 1988 he published the first edition of his best-selling guidebook, Ranch Vacations. The cover of the third edition of this book, published in 1994, featured a photo of Lost Creek Ranch and its iconic view of the Tetons. This image was taken by Latham Jenkins, who continues today to tell the stories of the people, wildlife, and landscapes of Jackson Hole through photos and videos, and is also an associate broker at Live Water Properties, where in 2021 he was the national top producer and also the top individual sales agent in Wyoming. This edition's cover was popular. "There is no other guest ranch with views like the ones at Lost Creek," Gene says.
The year following the publication of the third edition of the print guidebook, Gene brought his expertise to the internet by founding Ranchweb.com, an online guide to ranch vacations.
After 13 editions of a print guidebook and eight websites specializing in different type of guest ranch experiences, Gene estimates he has introduced tens of thousands of individuals and families to the magic of guest ranch vacations. He has become the recognized expert on ranch vacations and has been featured in the New York Times, People magazine, National Geographic Traveler, and Sunset and on CNN, ABC, and CBS. Gene is one of the original lifetime members of the Dude Ranchers' Association.
"I had no idea that guidebook was going to turn into my life's work and passion," Gene says. "It all started because I had this tremendous love for the outdoors and the West and cowboys and cowgirls, and somehow I felt that my calling was to be in the guest ranch business somehow, someway."
In the 43 years since he founded Kilgore Worldwide Ranch Company, Gene has visited more than 200 guest ranches, including Lost Creek Ranch, which he says "has been a beacon of beauty, charm, grace, and Western elegance." Most of the ranches Gene knows are in the western U.S. and Canada; a handful are in South America. "It is the West that I fell in love with, but wherever a guest ranch is, it helps connect us with the natural rhythm of the Earth, unites families and brings men, women, and children together to celebrate natural wonders and old time traditions and experience camaraderie, wonder, and cheer.
Gene says the most rewarding part of his job is hearing back from clients returned from a guest ranch vacation he helped them find. A member of a family of 50 (spanning three generations) contacted Gene after their guest ranch reunion: "I can't believe how special this was and how memorable it was and how it touched all of our lives. I can't thank you enough," she wrote. Gene says people ask him why he's so passionate about guest ranches. "I see and feel the power and beauty of them for people, especially in today's supercharged world," he says. "Guest ranches are the antithesis of technology; they offer the healing, nurturing, and soul-satisfying experience that so many of us need."
"There are three ways to get into the guest ranch business: marry it, inherit it, or buy it," Gene says. "None of those were a possibility for me, but I knew in my heart that guest ranches were my calling, and so I created a fourth way for myself." And the world is better for it: "Gene Kilgore single-handedly introduced dude ranch vacations to the world, encouraging travelers from all walks of life to visit these amazing places," writes a guest ranch manager in Arizona.
Visit genekilgore.com to learn more about guest ranch life.