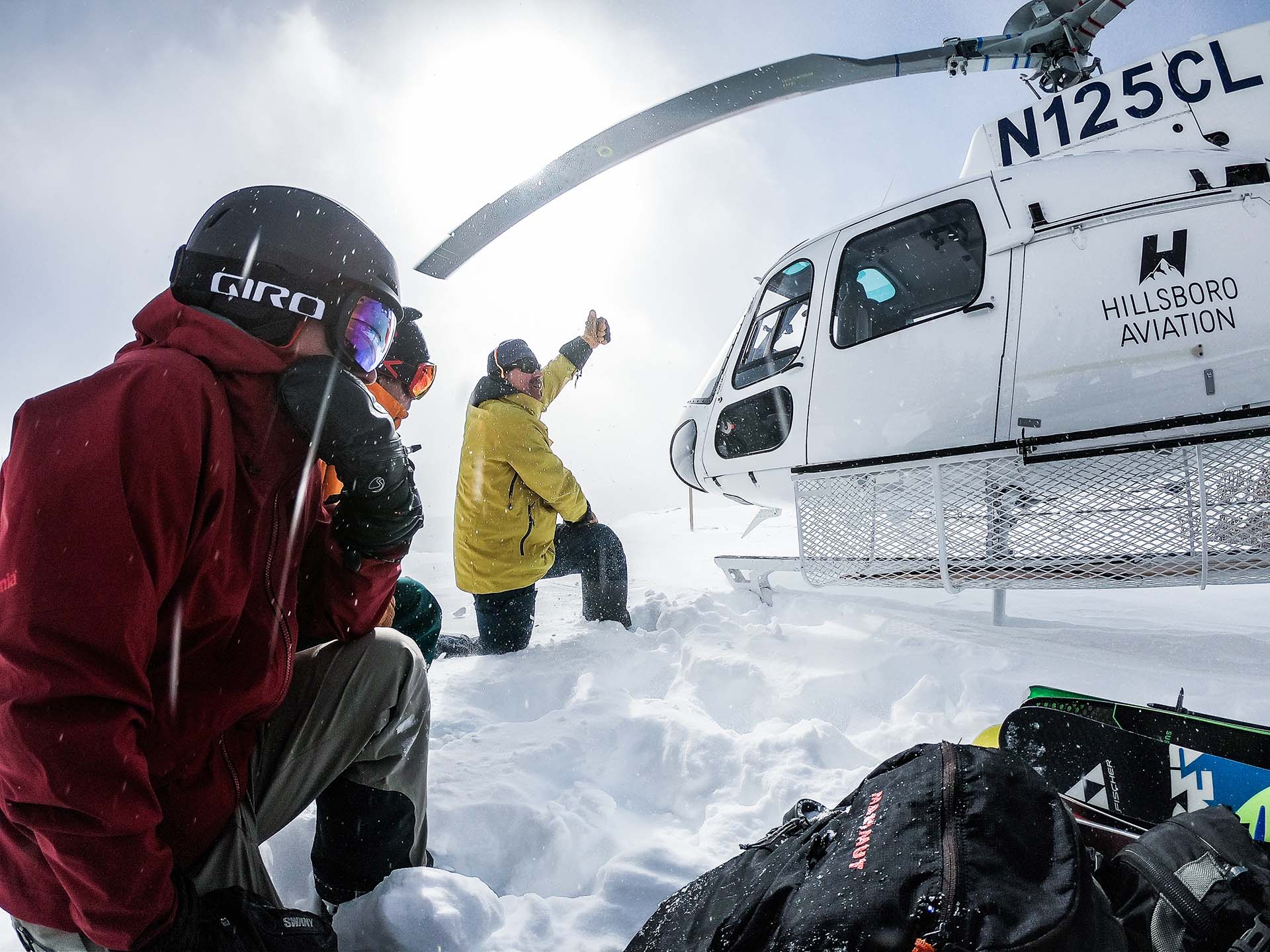 It's a moment of unadulterated excitement and thrill – an anticipatory jolt of exhilaration that many of us haven't felt since childhood. The helicopter rotors begin to thrum to life, and as you look across the cabin, wide grins make it clear that the rest of your group is feeling the same rush of euphoria. As the helicopter slowly lifts away from the ground, puffs of snow billowing from the belly of the bird, the excitement intensifies – this has to be the most exhilarating way to ski powder in the Rocky Mountains.
The landscape unfolds below as the pilot navigates toward the day's untouched slopes of pristine snow. Peaks, ridges, valleys and frozen mountain lakes extend as far as the eye can see. The excitement continues to build as the reality of the adventure settles in. The rhythm of the spinning blades penetrates every bone, and the energy is electric. You haven't even stepped into your bindings yet, and you're already having more fun than you've had in years. It's truly like being a kid on Christmas morning – every fiber is humming with pure joy.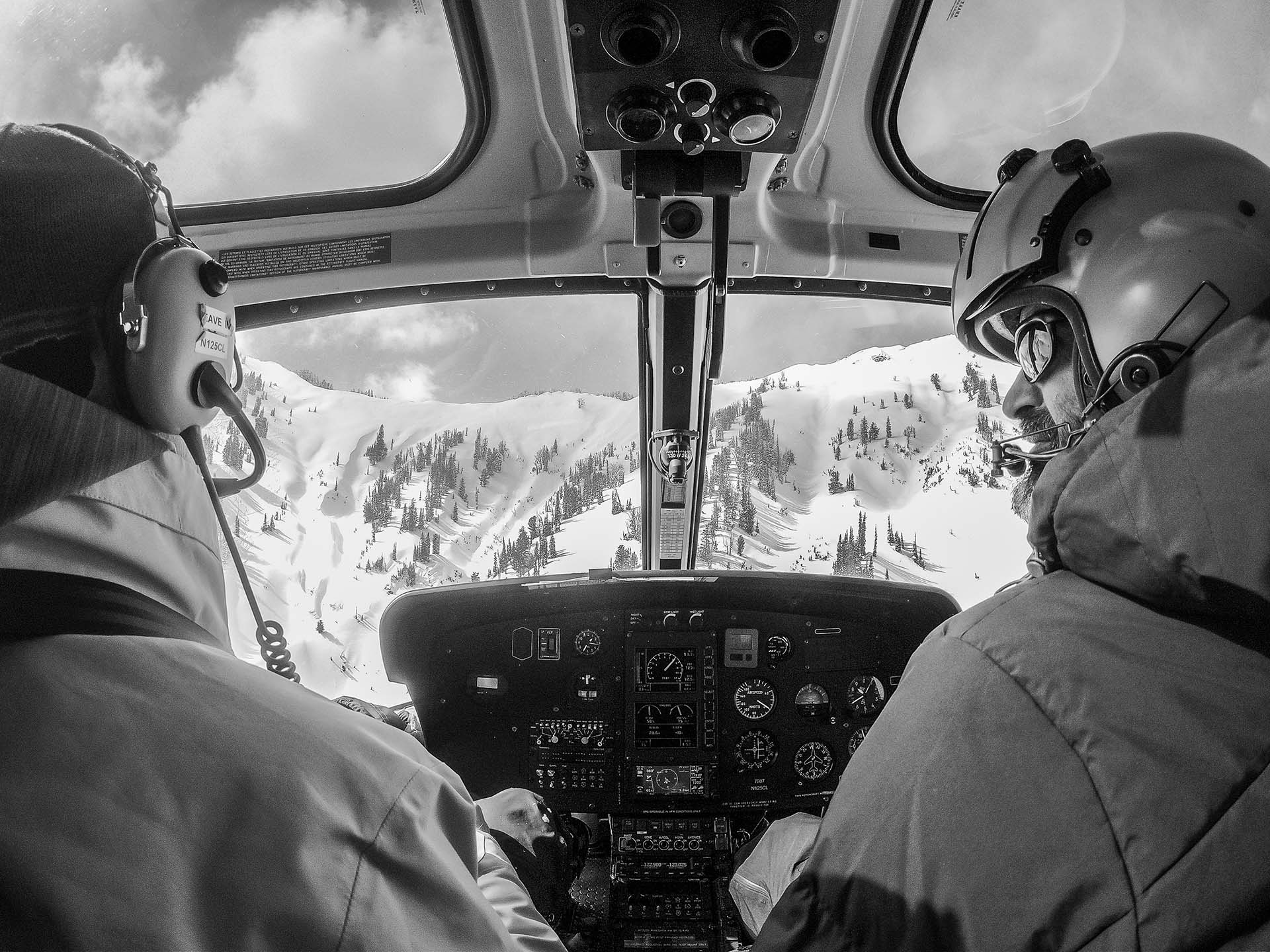 As the pilot deflty settles the helicopter atop the first run of the day, another wave of elation washes over your group: that flight was just the beginning!
High Mountain Heli is the easiest and most exhilarating way to leave the crowds behind, and replace parking hassles and the jostling of lift lines with stunning scenery, deep pristine powder and a truly unique experience every day. "This is all right in our backyard," observes Latham Jenkins. "You can literally ski this jaw-dropping terrain from 9 to 3, and wrap the rest of your workday around it."
Based out of two convenient locations on either side of Teton Pass, expert pilots fly small groups – no bigger than half a dozen, including a guide – into carefully-scoped locations in the mountains around Jackson Hole. "There's nothing like skiing bottomless powder without the pressure from any other skiers," reflects Jenkins. "The morning fervor is absolutely addicting. Everyone can't stop grinning like little kids, and the excitement is palpable. You're about to do something really, really fun."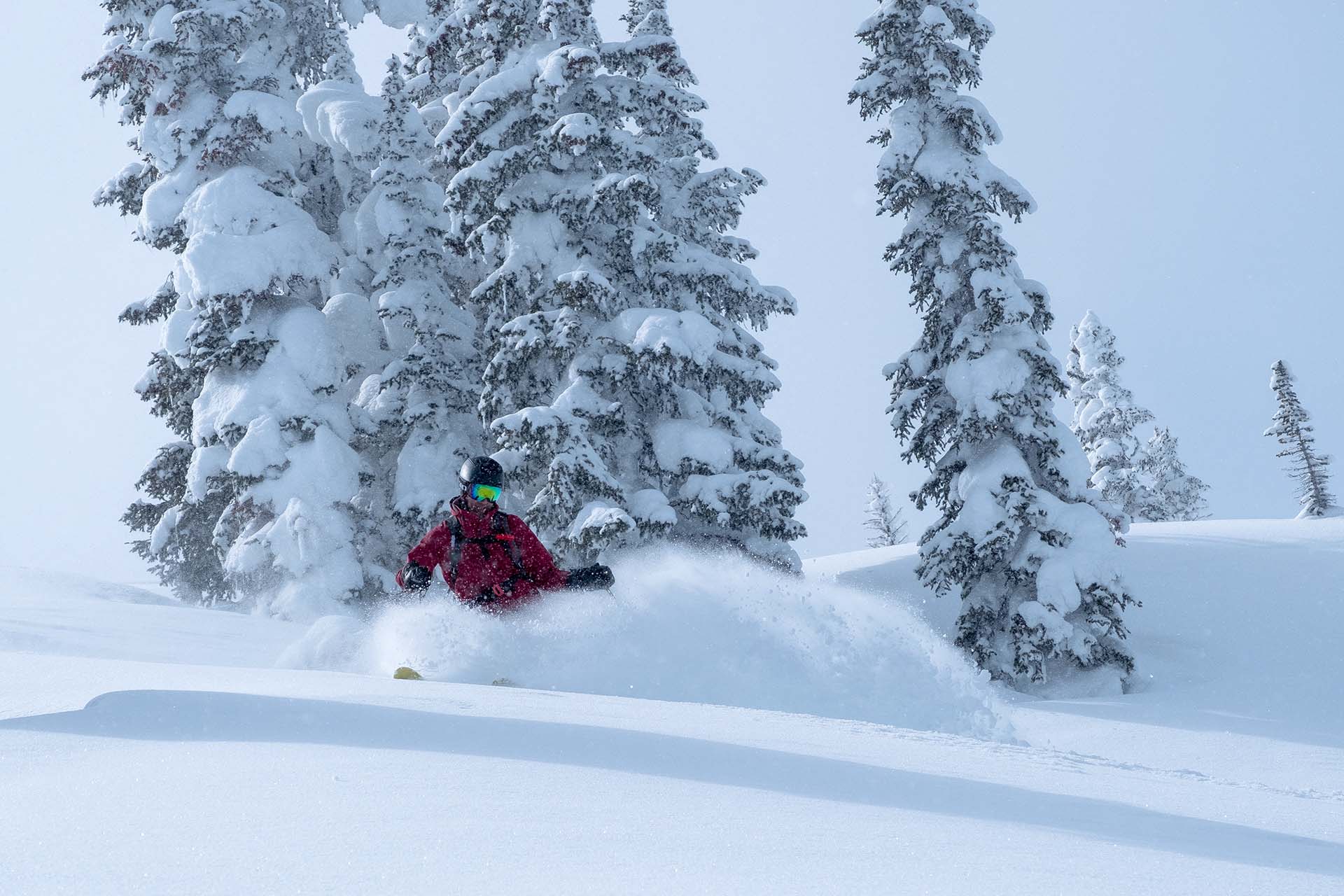 Jon Shick, Managing Partner of High Mountain Heli and former lead guide agrees that helicopter-assisted skiing is a thrilling way for advanced skiers to discover thrills they're unlikely to find at a resort. "We've got a vast amount of varied terrain," he explains. "Open bowl skiing, tree runs, you name it. And you can experience all of it on any given day!" And guests won't be traversing the tracks of other skiers. "We don't ski in any one place again until it's been refreshed by new snow," Shick says.
This unparalleled powder experience is maximized by the overall quality of the service provided by High Mountain Heli. "We fly smaller helicopters – a Bell 407 and an AStar B3E – and go out with more intimate groups. You won't be with more than four or five other people, and you might not even see other people all day," says Shick. And the flight portion of the day is anything but humdrum; flying with experienced pilots over some of the planet's most rugged and beautiful wilderness is a thrill in and of itself. Combined with the unsurpassed backcountry snow quality, a day with High Mountain Heli is guaranteed to keep your whole group grinning from liftoff to touchdown.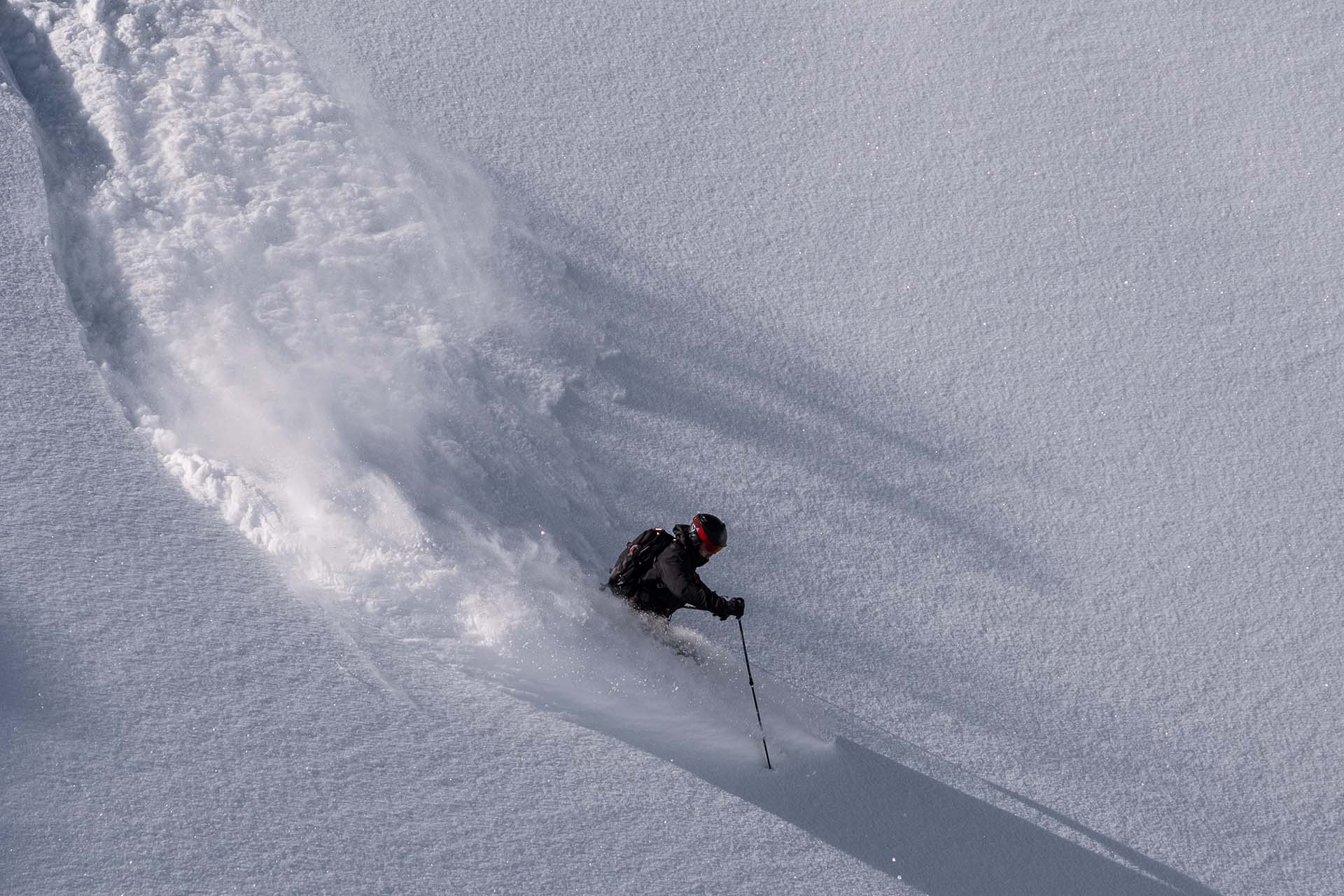 "This is some of the highest quality snow anywhere," agrees John Wauters, Head Guide for High Mountain Heli. "If you're skiing at JHMR, the runs are all more or less facing east. When you're in the backcountry, there is a vast amount of terrain in the Snake River and Wyoming Mountain Ranges that is sheltered from high winds, and gets sufficiently cold temperatures – really any aspect is skiable." Not only does this translate into a diverse menu of options for skiers on any given day, it also means enjoying a longer spring season than the local resorts.
While Wauters and Shick are quick to point out that experience skiing powder isn't strictly necessary, their brand of skiing adventure isn't for beginners. Guides are highly trained in backcountry safety – especially avalanche awareness – and are deeply familiar with the area and weather patterns. Their extensive experience makes them uniquely qualified to select terrain that matches the needs of skiers in any given group, to ensure that they have an unforgettable day for all the right reasons.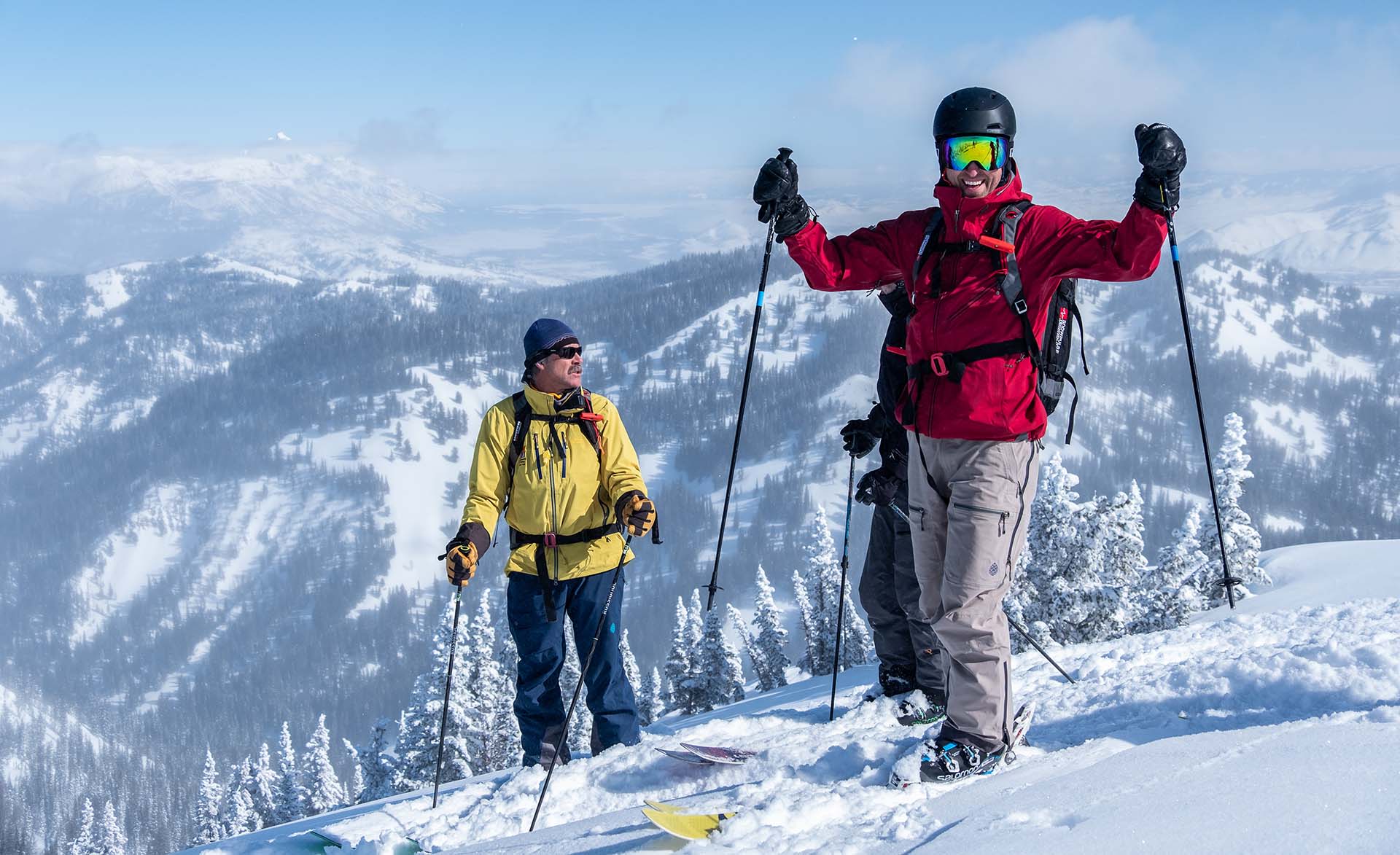 "When you're out there in that absolutely perfect powder, with some of the most stunning scenery in every direction – it's like 'Pinch me! Am I dreaming?' It's truly incredible that this is so easily accessible from home," recalls Jenkins. "People spend their whole lives waiting to ski terrain like this; we can be out here in the blink of an eye, have an absolutely unforgettable day, and be home in time for happy hour."