"I came to be a ski bum," Gavin Fine says of the original aspirations that drew him to Jackson Hole. However, as we meet with him today we're surrounded by the soundtrack to restaurant success: conversation spiked with laughter; orders called into the cozy kitchen; homey wooden trays laden with Italian cheese and yellow peppers being set down to appreciative fanfare. We're in Bin22, which opened in 2013 and is the newest restaurant owned and operated by the Fine Dining Restaurant Group.
Ski bum, sure, but since transformed to successful Jackson restaurateur with a roster of dining ventures that began with the trailblazing Rendezvous Bistro and now includes Bin22, The Kitchen, Q Roadhouse & Brewing Co., Il Villaggio Osteria, Bistro Catering, and Silver in Park City, Utah. Fine still speaks in the brash, loquacious fashion of someone born and bred in the city, and, at least on this day when a winter storm warning has ushered in a muffling deluge of snow, he eschews the de rigueur uniform of fleece for a more tailored suit jacket—paired, of course, with snow boots. During our conversation, he orders olives and a panoply of cheeses and encourages us to sample a glass of Bin22's ever-changing roster of reds, the consummate host.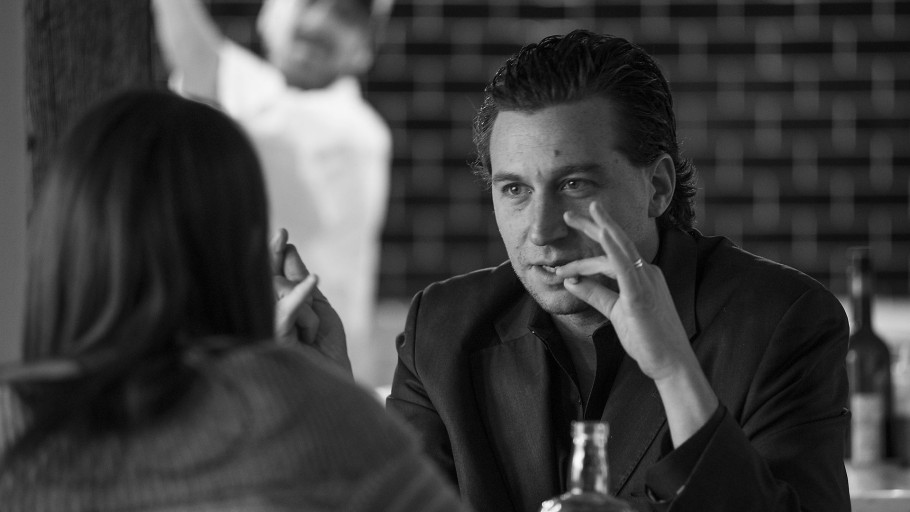 Like many valley residents, Fine came here as a young man intending to make a go of it on the steep slopes for a season or two before returning to a life and career waiting on the east coast. He grew up in what he terms the lively "theatre" of Chicago restaurants, and then studied hotel and restaurant management at Cornell before packing a car with all of his belongings and setting westward.
"So, my first falling in love moment was driving here," he says. "I still remember this, very vividly. It took me two days to drive. I stopped in Nebraska and got in the worst rainstorm of my entire life—I almost died driving out here. I showed up here the next day, drove up through Hoback Canyon, and it was pretty frickin' amazing after a horrible flat drive from Chicago–literally, the last hour getting to the mountains." For Fine, this is a feeling that renews itself. He remarks on the view of the Tetons around a bend of Highway 22. "I still think about it often, and the shock of it." Now, touching down in front of those same Tetons after a flight out of town, it's the sense of recognition and safety rushing in that tells him, all over again, that this valley is home. "That's a healthy thing, though, because love is a very interesting word."
It's family and the web of community connectedness rather than views, however, that keep his commitment to Jackson Hole alive. Fine mentions the experience of walking around the small town, where so many people are familiar and know his family by name.
"They know my five-year-old. He thinks he's the mayor already. I think it's why people are moving here. They feel that sense of community."
And the other reason to stay? "I have an older brother, kind of a stubborn sonofabitch who doesn't listen to many people, but my brother is a very smart dude. He was living in New York, and I was thinking about leaving a couple of times, and he told me: 'The majority of people that I know who live in New York are fucking miserable. Don't discount how happy you are, and that you're surrounded by happy people, and that it makes a difference in your life every day.' It stuck with me. I didn't realize that I constantly come back to that. If you asked me why I stay here, I would say, I stay here for the people, first and foremost, and that connection to being surrounded by people in good moods. It does help."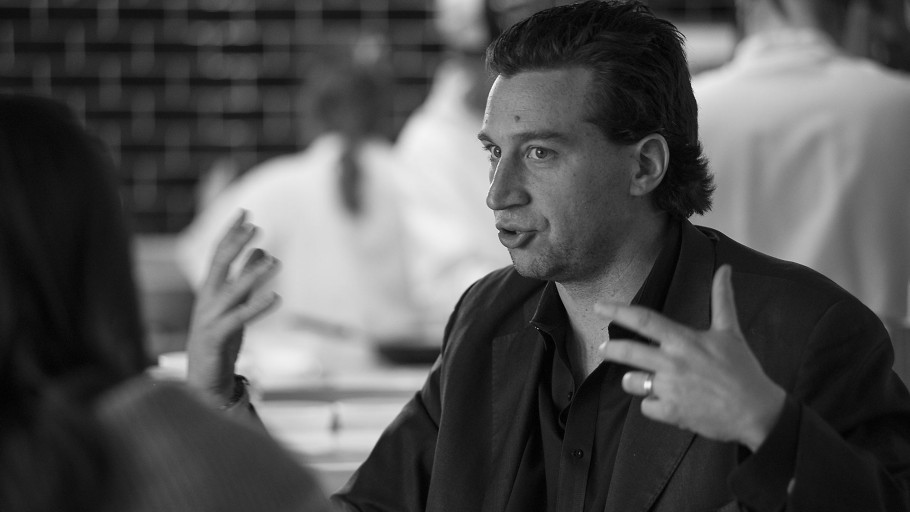 The spirit of conviviality and true contentment extends, naturally, to the dining room. "It's something that I've said a lot, but eating out is the most private thing we do in a public space, so that's really what it's about: making people feel comfortable and that they're not leaving too far from their home," Fine says of the Fine Dining Restaurant Group's philosophy. Fine and his business partner Roger Freedman aim for each restaurant they create to transcend mere places to eat and drink; they ought to welcome, too, as community gathering spaces. The Jackson Hole happiness principle plays a role here as well.
"We're lucky, I tell the staff all the time. Go work a host stand in New York or L.A…and it's a whole different ballgame.  It's hard to get angry out here. You've got a couple coming in, they just saw a moose, and they're sitting at the bar enjoying themselves, or they just whitewater rafted and they're exhilarated. We're the benefactors of that, and we get to feed them alcohol and food, so then they really love us!" Fine breaks into a chuckle.
"Jackson Hole is what makes our job easy."
Up until a year ago, Fine interviewed every new hire himself and can often still be spotted working the line at one of his restaurants. His approach is hands-on and when plucking members of Jackson Hole's often-seasonal workforce, he looks to convert that anonymous roster of faces into regular fixtures by dismissing the haughty denigration of serving as "not a real job." By treating every busser, server, host, and chef as a member of the Fine Dining Restaurant Group family—complete with healthcare, 401k's, and family-style dinners—the experience of comfort is amplified for patrons who enjoy seeing the same faces, and for Fine himself because, well, he'd prefer to spend long working days among people he actually likes. "I can teach you how to serve this, but I can't teach you how to have a big heart," he emphasizes.
The dining room as community hub is a tradition Fine absorbed during his sommelier training in France and Italy. He recalls feeling envious of his Italian coworkers gathering together for genial meals after the restaurant had closed its doors for the evening. These European-inflected tastes also extend, most pleasurably, to wines, and introducing fine wines to the valley provides yet another angle to his dining passions. When Fine first moved here, "big Cabs were good and Chards were good, but I fell in love with Grenache and Syrahs and Mourvedres from the Rhone Valley. I fell in love with Sangiovese out there, and it really becomes the love—it's like here; you fall in love with the place."
Bin22 doubles as a carefully-curated wine shop, and with four sommeliers on staff, the Fine Dining Restaurant Group has turned its attention to acting as a wine buyer for Jackson residents seeking to stock their cellars with the same sophisticated vintages they can usually discover in more urban environments.
"Practice makes perfect with wine."
For Fine—by way of Chicago, New York, Spain, Italy, and France—the path to Jackson Hole may seem circuitous, but the path to owning a restaurant has always been direct. Even as a child, he knew he'd have a restaurant. On family trips, his mother encouraged him to keep a journal and "all I talked about was the food and this restaurant and that in my journal, and we would laugh about it." So, truly, there is something very natural about Fine sitting here now as a seasoned restaurateur, directing the flow of food and wine. New projects lie ahead and it's clear that he's in the biz for the long haul, which means continuing to nourish the community he once glimpsed through the windshield of a car after a long, cross-country drive.
           "It's a marathon, not a sprint, so I would say that I would have made a lot more money, but this is my life, and this our community, so we're always trying to give back to that community. I want to be able to look you in the eye and say, 'We're really trying to provide this.' I can go to my grave with my integrity, and that's what I care about."