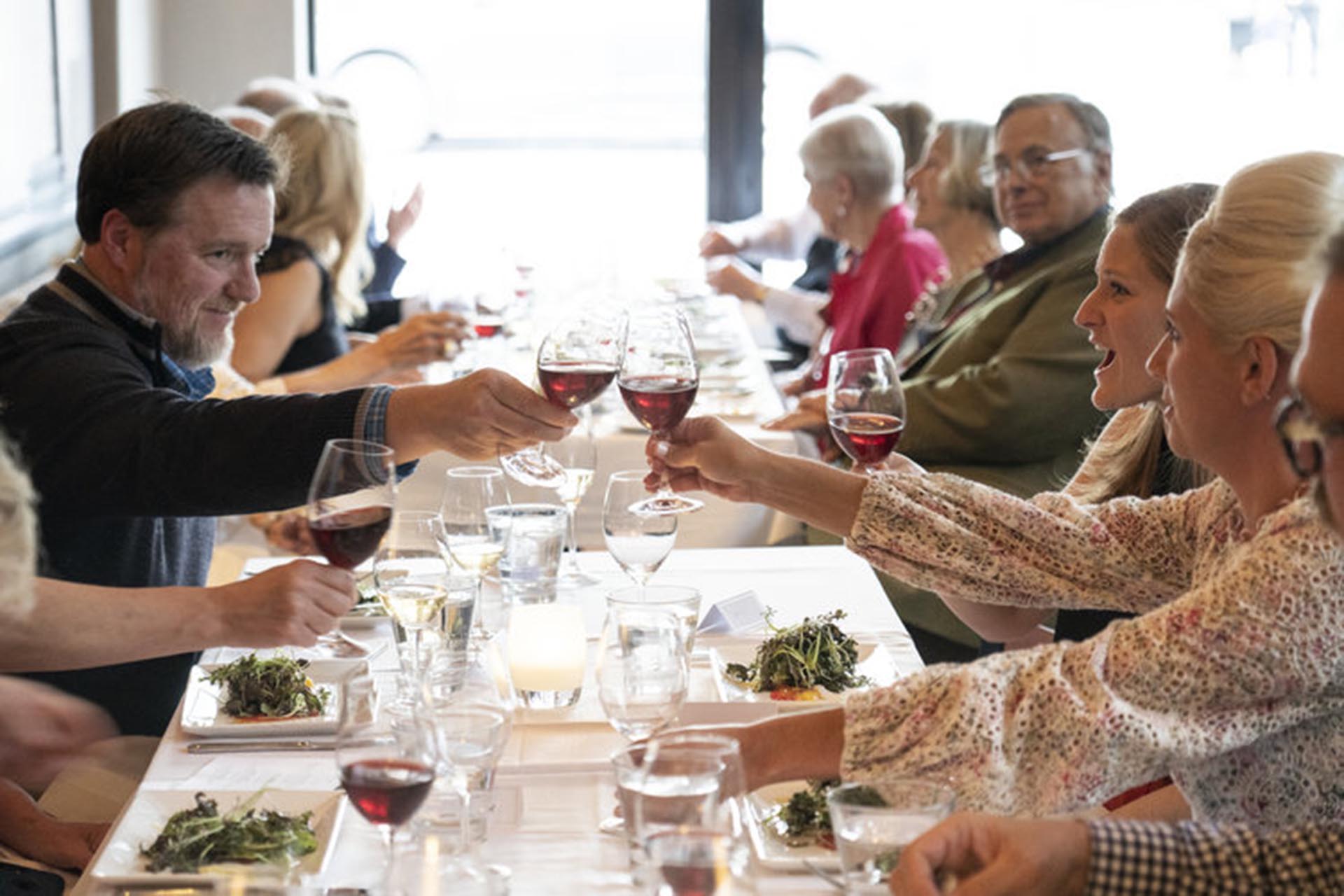 Featuring top caliber food, wine and spirits, Jackson Hole Food & Wine Festival and Winter Fest showcase culinary excellence in intimate settings.
For such a cozy and close-knit community, Jackson Hole boasts some astoundingly talented and innovative chefs. The valley's culinary scene is celebrated, and for very good reason: foodie creatives have found inspiration here, and diners enthusiastically reap the benefits of their efforts. When you live in Jackson, chances are good that your neighbors appreciate an excellent plate and glass of wine as much as you do.
It makes perfect sense that events like the Jackson Hole Food & Wine Festival and Winter Fest would flourish here: events whose intimacy mirrors that of the small Jackson community, and some of the best chefs, wines and spirits in the country, all surrounded by the stunning landscape of the Tetons. It's a recipe for an unforgettable experience.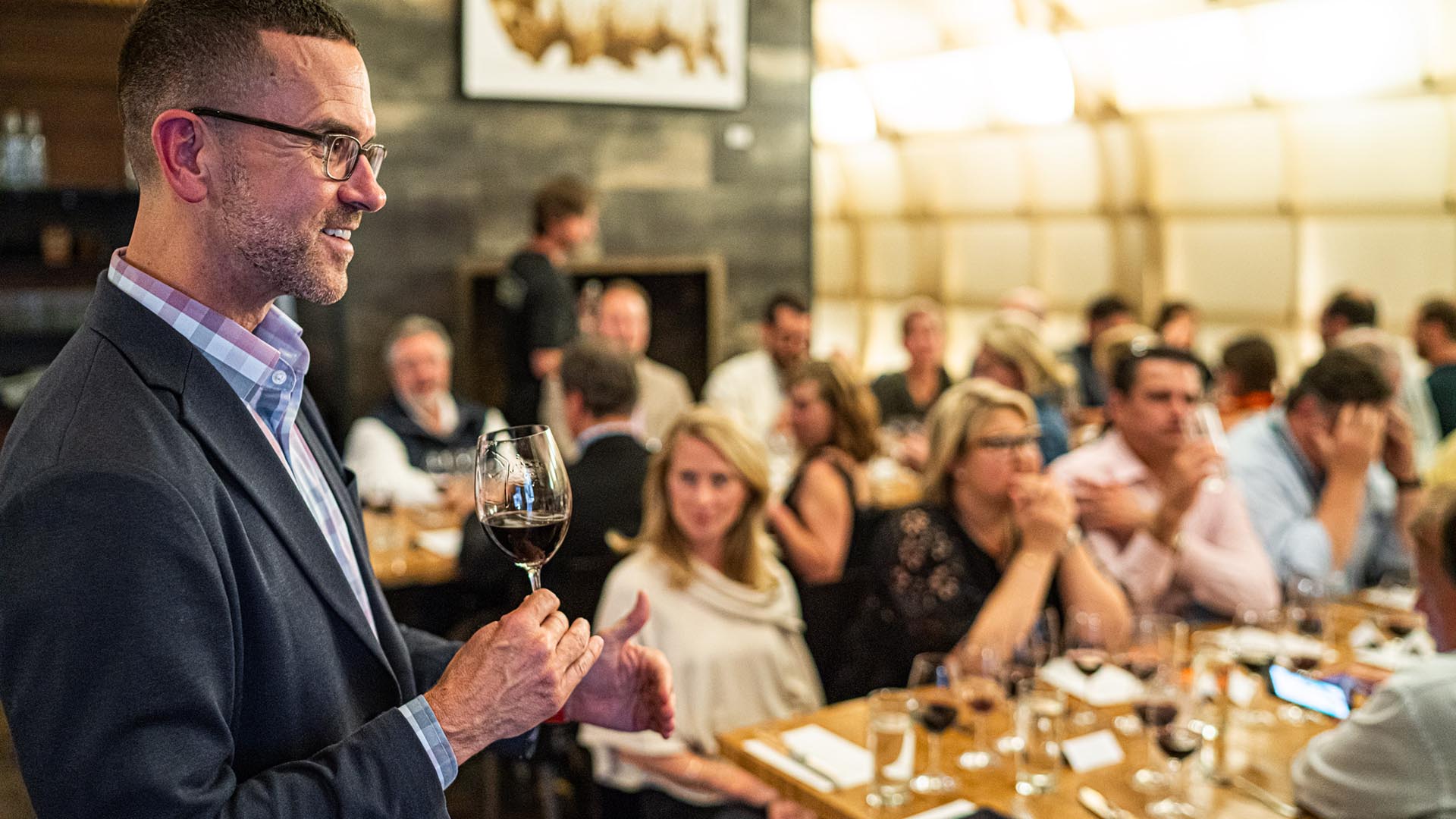 "Our intimacy makes our festival really stand out. The majority of our events are for 50 people or less, although we do have a few larger events during the festival weekends, capping out at 600 people. This is vastly smaller than most of the food and wine festivals around the country and offers many advantages. One doesn't wait in lines at our grand tasting events as they do at other festivals that have thousands of guests," says Megan Gallagher, Director of Jackson Hole Food & Wine.
The small scale isn't just great for diners, it enriches the chefs' experience, she says. "The small numbers allow our chefs to get really creative and fun with the menus and create things they would not be able to do on a larger scale. We are also attracting top wine and spirits producers from around the world, who are excited to share the best from their portfolio and are able to do so since they don't need to bring as much product as they would for larger events.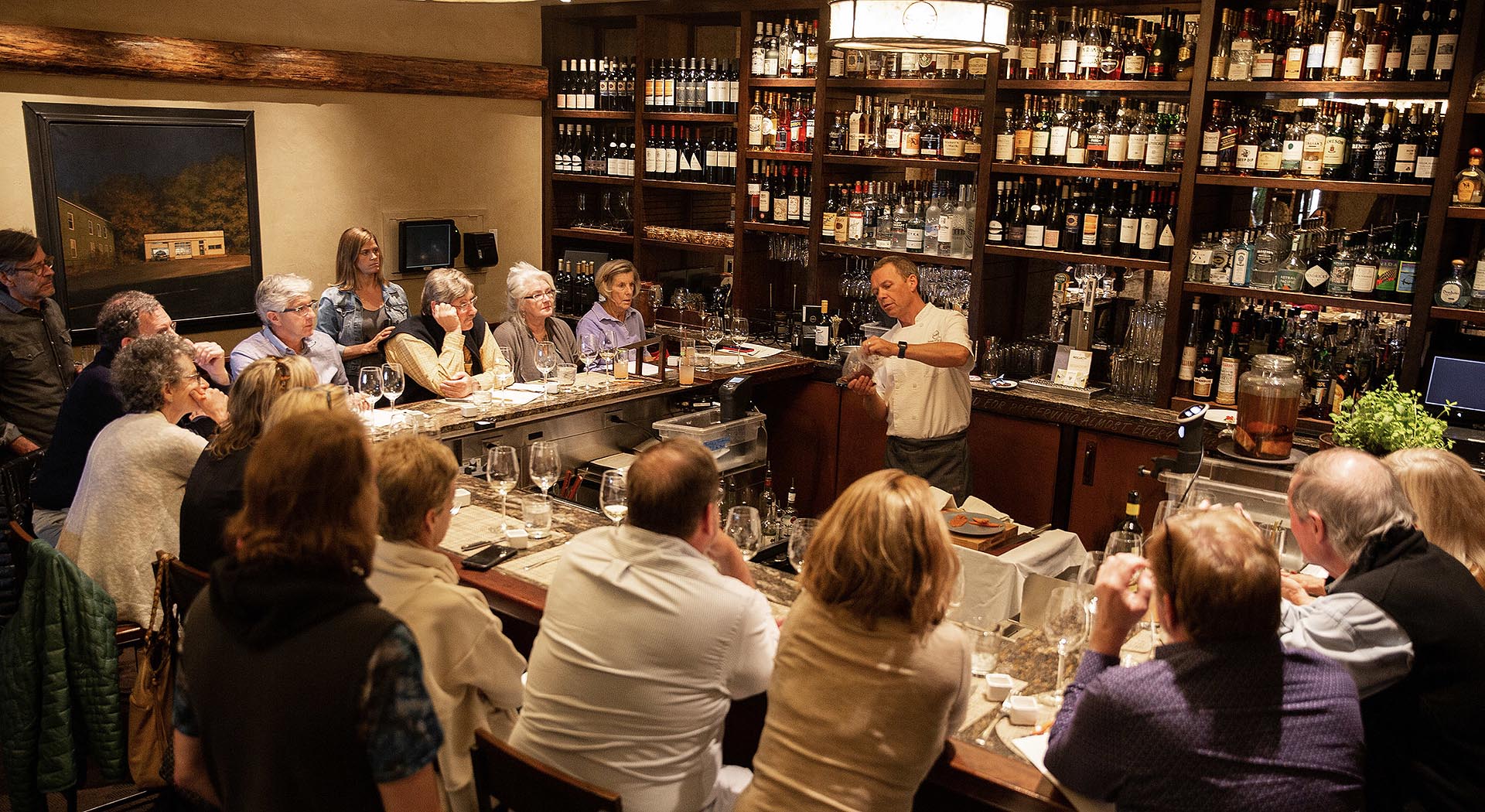 That's part of the magic of the Jackson Hole Food & Wine Festival and Winter Fest: chefs aren't cloistered to kitchens, simply sending out food. Rather, chefs are enthusiastic about connecting with guests, and even teaching them a thing or two. Another unique dimension of these events are the educational elements. Chefs, cocktail experts and vintners host small groups of guests and teach skills or give demonstrations. It's an experience unlike any other – big, fresh ideas making a splash in a small town.
Megan says that even though the event is relatively young (it's sailing into its fifth year) nationally-recognized chefs are already seeking their own invites. It's no wonder: they get the opportunity to showcase their incredible skills in one of the most exceptionally special places on earth. "We host a dinner with our featured chef teams and wineries and like to show off our valley to them and help arrange activities while they are here such as fly fishing, skiing, and white water rafting.  Our guest chef team and vintner this winter are bringing their families and making a vacation out of it and staying additional nights in the valley which we love!"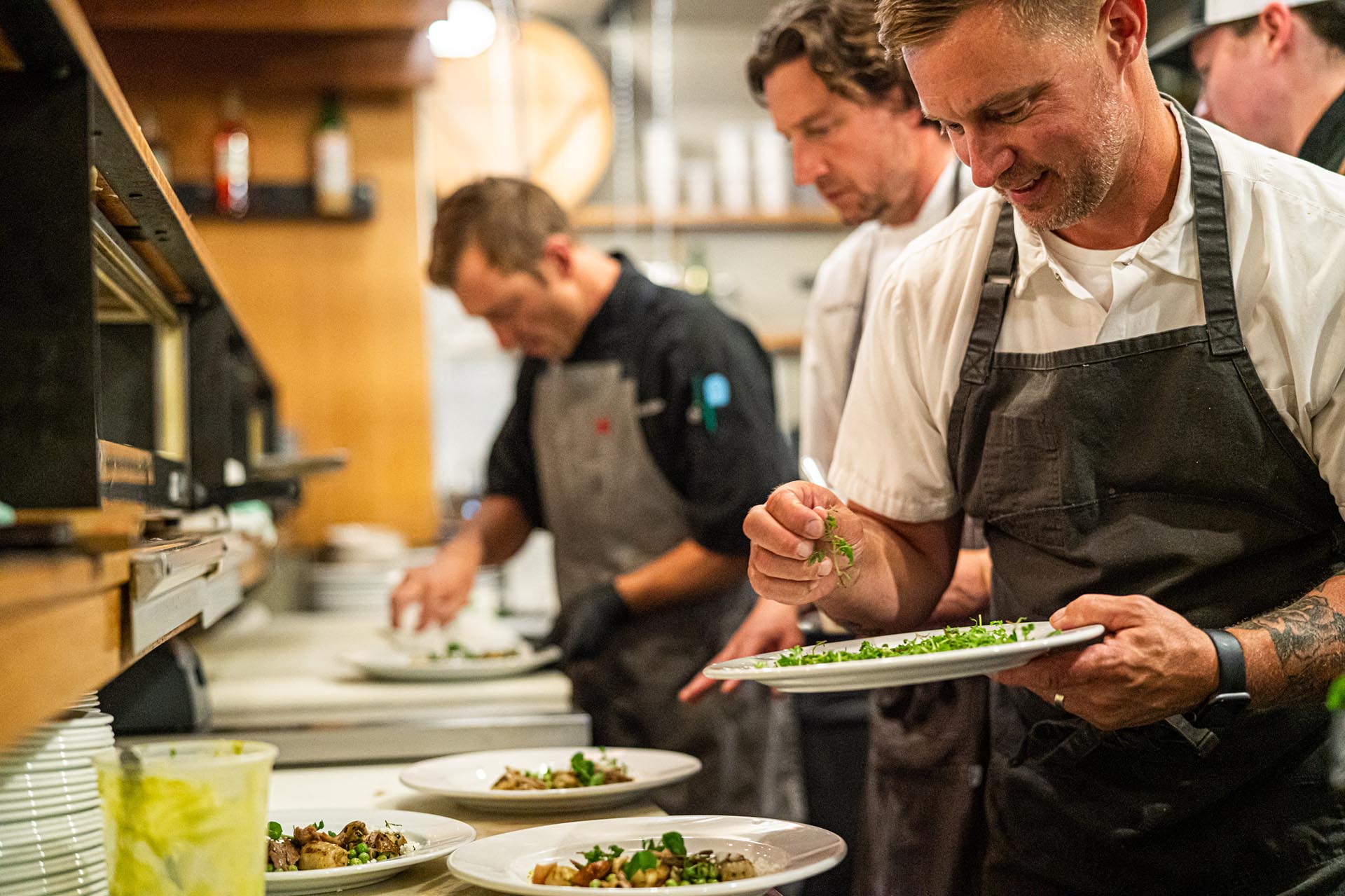 In addition to exploring the activities and landscapes around Jackson Hole, the chef teams are welcomed into the kitchens of the best restaurants in town. "Local restaurants host the visiting chef teams and the local chefs get to work alongside and support some of the country's finest culinary talent, which is an incredible opportunity," Megan explains. The relationships that are born from these cooperative encounters are not only long-lasting, but also facilitate a flow of inspiration between local chefs and restaurants in major cosmopolitan areas.
The influence isn't just a flash in the pan. "Following our events we will see wine at the local shops from small wineries that we invited to participate, who in turn meet folks from the valley that enjoy their products and next thing you know we're seeing it on local restaurant menus and on store shelves," Megan says. She's proud that the connections continue to enhance the caliber and diversity of the Jackson Hole food scene.
Local restaurateurs like Gavin Fine have hosted multiple chef teams, and have formed enduring relationships with culinary creatives across the country. Connections like this allow Wyoming innovation and flair to flow into urban establishments, and bring big-city quality and trends into the favorite neighborhood eateries here at home.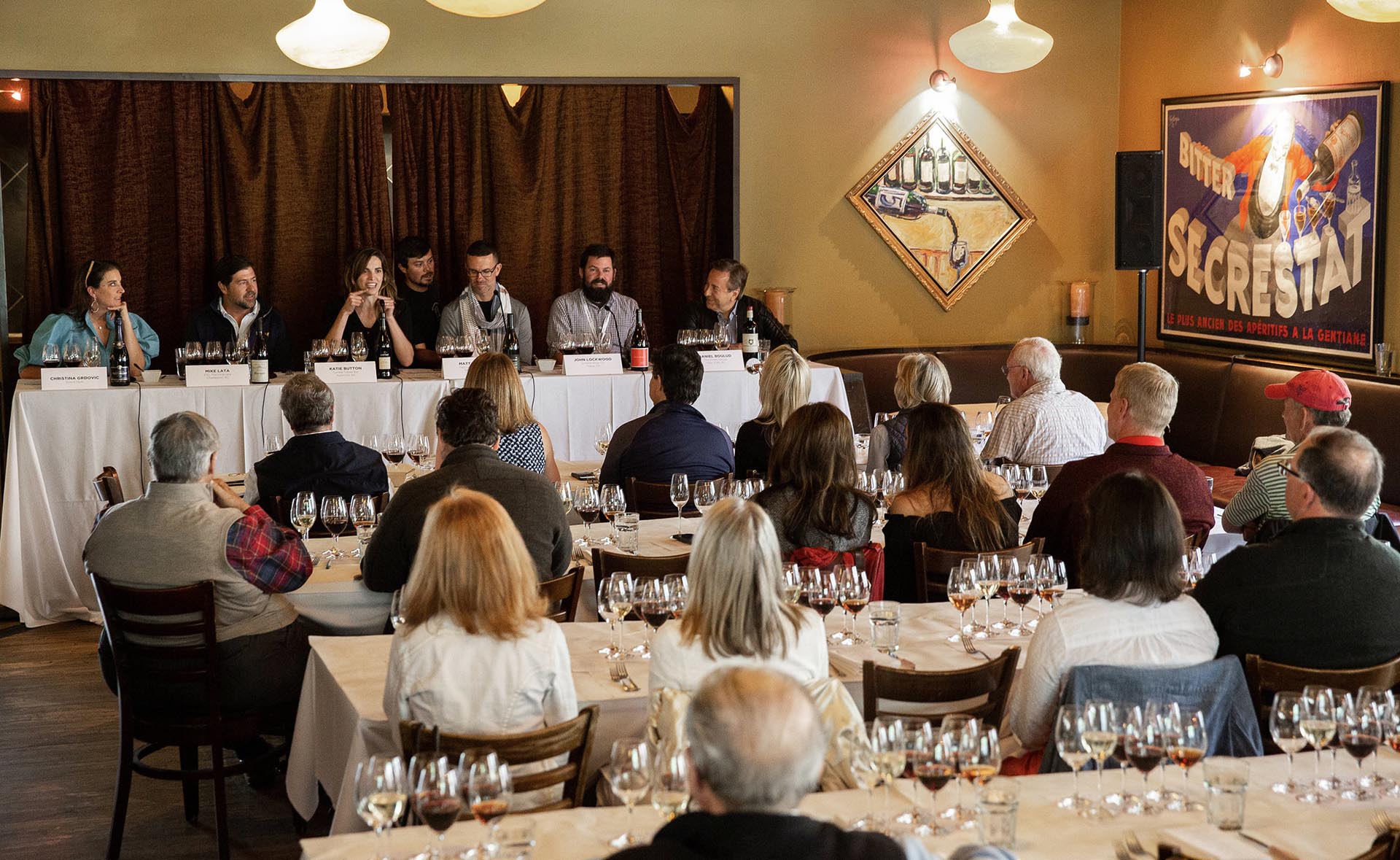 And that's exactly what Megan and her team were seeking to accomplish. "Our goal was to highlight our valley, reach a wider audience with expanded programming including education and classes, expand the culinary conversation and also give back to our community," she says. "We choose a beneficiary each year to support and highlight. For 2020 we are once again supporting Hole Food Rescue, which is an incredible local organization that we truly admire. They are doing such great work for our valley and we are doing what we can to help spread the news."
Both the summertime festival and March Winter Fest should be on the calendar of every Jackson resident who loves a delectable dish or phenomenal glass of wine. No other food and wine celebration in the country offers a parallel experience – top quality food and drinks in small, relaxed settings, and the chance to create relationships among fellow foodies and chefs alike. All in the shadow of the stunning Tetons.
All but one of the events for Winter Fest 2020 are sold out, so if attending this year is on your list, act fast! Tickets for the Jackson Hole Food & Wine Festival in June will go on sale April 1st, 2020. This summer's featured chefs include:  Ashley Christensen of Poole's Diner in Raleigh, NC, who was honored with the 2019 James Beard Outstanding Chef award, Michael Anthony of Gramercy Tavern in NYC, and Evan Funke from Felix Trattoria in LA. Our featured wineries include Almaviva, Joseph Phelps and Michele Chiarlo.