The Wall Street Journal recently featured a 49-acre wildlife-rich estate in Jackson Hole, Wyoming with a one-of-a-kind 10,000-square foot Craftsman-style main home.
A 49-acre property known as Heartwood in a Jackson Hole community with private hiking and cross-country skiing trails and fly-fishing was featured in the February 10 issue of The Wall Street Journal. Writer Libertina Brandt wrote that the estate, which is listed with Live Water Properties agent Latham Jenkins, was once part of the 1,000+ acre Crescent H Dude Ranch and is located about five miles south of Wilson, Wyoming. Opened as a guest ranch in 1927, today Crescent H is one of the most unique and exclusive communities in Jackson Hole. In it there are only 22 lots that are 35 acres or greater in size.
Brandt reported that Carl and Emily Knobloch bought the 49 acres in 2000 and that by 2004 had designed and built a 10,200-square-foot Craftsman-style main home and a guesthouse. The property gets it name from the primacy of redwood heartwood in the main home's materials palette. Heartwood is found at the center of a redwood, and, as a result, is stronger and more vibrant in color than the sapwood found near the edges of a trunk. Heartwood architect Kevin Burke, a principal at Jackson-based CLB Architects says,
"I've never before or since worked on a project that focused on the level of detail that [Heartwood] did. This home is unique in Jackson Hole."
Brandt wrote that much of the heart redwood used to build Heartwood dates to the 1800s. Heartwood is listed for $22.5 million.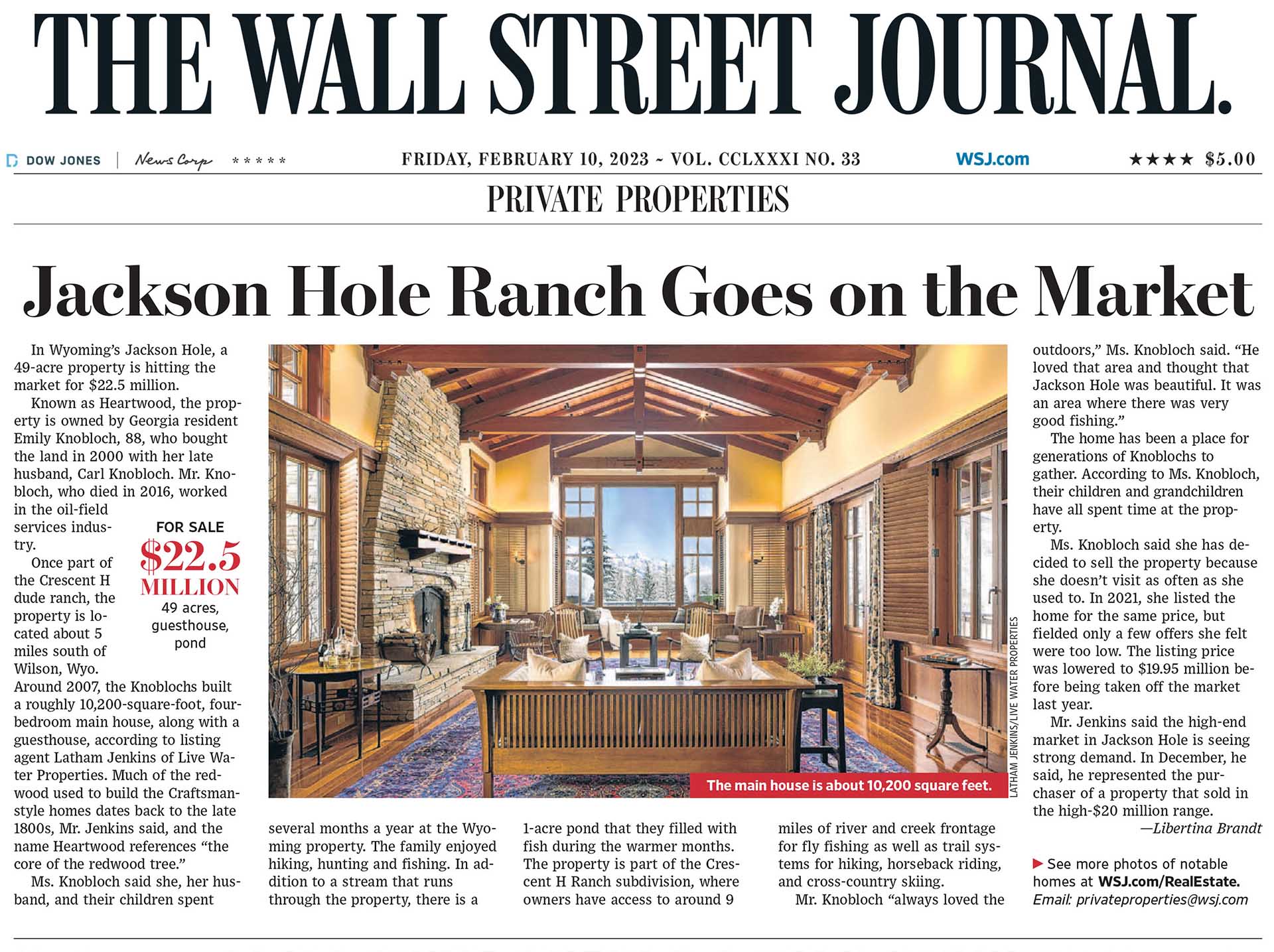 The Wall Street Journal reported that Heartwood had been a place where generations of Knoblochs gathered. "Ms. Knobloch, her husband, and their children spent several months a year at the Wyoming property," the paper shared. "The family enjoyed hiking, hunting, and fishing. In addition to a stream that runs through the property, there is a 1-acre pond that they filled with fish during the warmer months." Heartwood is being sold because the family doesn't visit as often as it used to. Mr. Knobloch, whom Ms. Knobloch said "always loved the outdoors … and that area and thought that Jackson Hole was beautiful," died in 2016.
Heartwood was previously listed in 2021 for the same price, but it only fielded a few offers Ms Knobloch felt were too low. "The listing price was lowered to $19.95 million before being taken off the market last year," Brandt wrote in The Wall Street Journal. The paper quoted Jenkins as saying that the high-end market in the Jackson Hole area is seeing strong demand from buyers and that, in December, he represented the purchaser of a nearby property that sold in the high $20 million range. (Review the listing.)