Cowboys & Indians, the premier magazine of the West, has featured Cody Creek Sanctuary as a "Hot Property."  https://www.cowboysindians.com/2020/11/hot-property-cody-creek-ranch/.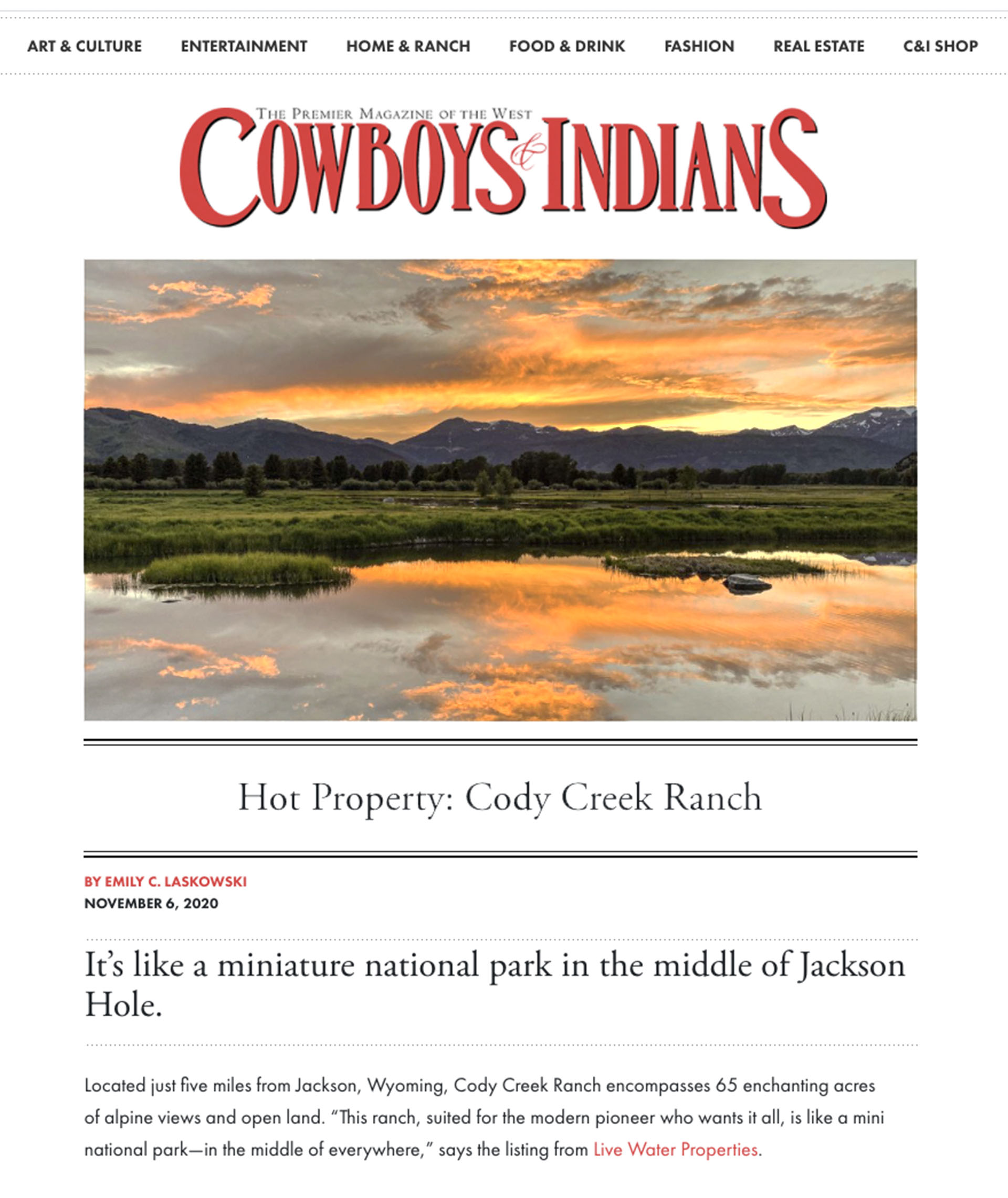 "Located just five miles from downtown Jackson, Wyoming, Cody Creek Sanctuary encompasses 65 enchanting acres of alpine views and open land. This ranch, suited for the modern pioneer who wants it all, is like a mini national park—in the middle of everywhere," says Emily C. Laskowski of Cowboys & Indians.
The owner has spent the last 30 years improving the home and surrounding property that is defined by its natural waterscapes. It has created a peaceful sanctuary for the resident elk herd, over one hundred and thirty bird species, including bald eagles, sandhill cranes, osprey, and a variety of wild songbirds. The crystalline waters of Cody Creek—which flows the entire length of the property—provide pristine habitat for native cutthroat trout and boundless opportunities for fly fishing.
Latham Jenkins, the listing agent, a specialist in luxury real estate in Jackson Hole says, "I treasure having an opportunity to market distinctive listings like Cody Creek. It represents the natural beauty that attracts us to Jackson Hole: the wildlife, the on-property recreation, the thousands of acres of Western viewscapes that are protected by conservation easements in perpetuity. It has an amazing juxtaposition of being just five miles from Jackson Hole's historic town square."
See Cowboys & Indians, Hot Property feature, https://www.cowboysindians.com/2020/11/hot-property-cody-creek-ranch/. Learn more about Cody Creek Sanctuary on the listings website, CodyCreekJacksonHole.com.