By Natalie Sherman / August 25th, 2017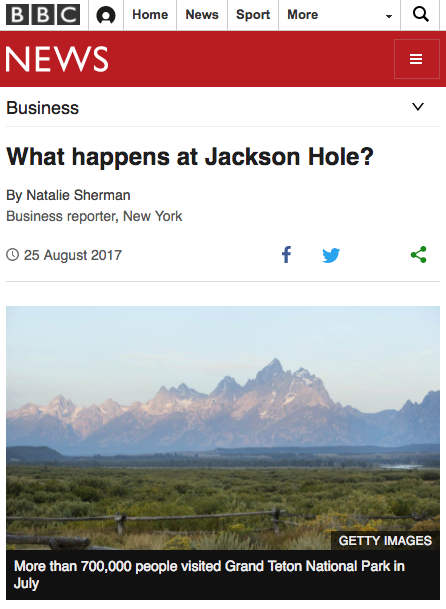 For a few days every August, a remote Wyoming valley known for mountain views and wildlife sightings sets the stage for serious talk about interest rates, inflation and the world's labour markets.
How did Jackson Hole – more than 2,000 miles west of Washington DC – become a favoured retreat for central bankers and economists from around the world?
Officially, the answer is work.
A regional branch of the US Federal Reserve hosts an annual conference each August at the Jackson Lake Lodge in the heart of Grand Teton National Park.
But as with the millions of other tourists who pass through the area every summer, nature was the original draw.
Why Jackson Hole?
The Kansas City Federal Reserve, one of the US central bank's regional entities, started holding an annual conference in 1978. In the early years, the discussions focused on agriculture, but organisers had aspirations for a more high-profile event.
The hope was that the location – in the middle of a national park – might help woo then Federal Reserve chairman Paul Volcker, who was known to be "fond of fly-fishing", the bank's history of the event recounts.
"I said we need a place for our next symposium (where) people can fish for trout," recalled Tom Davis, a former senior vice-president and head of economic research at the Kansas City Federal Reserve.
Mr Volcker accepted, but did reportedly raise questions about the distance.
"He said, 'Roger, how in the hell did you ever get to Jackson, Wyoming?'" former Federal Reserve president Roger Guffey said.  Read the Full Article.